Popular eco-friendly resorts in Fiji
Fiji is not only known for its stunning natural beauty but also for its commitment to sustainable tourism. The country is home to several eco-friendly resorts that offer a perfect blend of luxury and environmental consciousness. These resorts go above and beyond to minimize their impact on the environment while providing guests with an unforgettable vacation experience. Make this vacation a learning and rewarding one by choosing to stay at an all-inclusive eco-friendly resort. These eco-friendly resorts in Fiji are shining examples of how luxury and sustainability can go hand in hand. By choosing to stay at one of these resorts, you can enjoy a memorable vacation while knowing that your presence is helping to protect the environment and support local communities. Let your holiday with purpose begin with great learning and exploring. Listed below are some of the best resorts in Fiji that encourage and engage guests in their conservation programs.
One notable eco-friendly resort in Fiji is the Jean-Michel Cousteau Resort. Situated on the beautiful island of Vanua Levu, this resort is not only a paradise for travelers but also a champion of marine conservation. With its own marine biologist on staff, the resort offers educational programs and activities that allow guests to learn about and appreciate the underwater world. As much as you'll enjoy a luxurious stay, you and your kids will have a fun time learning and exploring the resort's sustainable practices. The resort also implements sustainable practices such as using solar power, recycling waste, and supporting local communities.


Photo Credit: Jean-Michael Cousteau Resort
Another eco-conscious resort in Fiji is Matava Fiji, located on Kadavu Island. This remote and secluded resort is a haven for nature lovers and adventure seekers. Matava Fiji takes sustainability seriously, utilizing solar power for electricity, rainwater harvesting for water supply, and composting for waste management. The resort also actively supports marine conservation efforts, educating guests on ways to avoid damaging the underwater world and offering diving and snorkeling experiences that allow guests to explore vibrant coral reefs while promoting responsible tourism.
Photo Credit: Matava Fiji
Namale Resort & Spa, nestled in the picturesque town of Savusavu, is another top choice for eco-conscious travelers. This luxury resort combines world-class amenities with a strong commitment to sustainability. Namale Resort & Spa utilizes solar power, practices organic farming, and implements waste management strategies to minimize its environmental impact. The resort also supports local communities through various initiatives, contributing to the overall well-being of Fiji's people and environment.
Photo Credit: Namale Resort and Spa
Turtle Island Resort, situated in the Yasawa Islands, is an all-inclusive resort where one can indulge in pure relaxation and romance. The Turtle Island is blessed with calming waters and stunning scenery, offering the most luxurious stay one can ever imagine. The resort's 'farm of light,' an extensive solar installation, has made Turtle Island the cleanest ecotourism resort. The resort focuses on sustainability and community empowerment. With solar power, organic farming, and waste management practices, Turtle Island Resort offers an eco-friendly escape. Not to forget their amazing Turtle conservation program that helps sustain wildlife—a great initiative that you can also be a part of, where your kids can witness the releasing of these hawksbill turtles during the season.
Photo Credit: Turtle Island Fiji
Plantation Island Resort, located in the breathtaking Mamanuca Islands of Fiji, is a renowned eco-friendly destination that offers a perfect blend of luxury, natural beauty, and environmental sustainability. This tropical paradise is an ideal choice for travelers seeking a responsible and eco-conscious vacation experience. One of the standout features of Plantation Island Resort is its strong commitment to environmental conservation. Their coral conservation program allows you and your kids to participate in coral planting as part of their activities program. This way, they engage and educate you on the importance of marine conservation.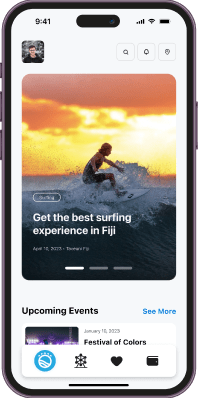 The only super app
you need in Fiji.