Pamper yourself with the best spas in Taveuni
Taveuni Island is a remarkably beautiful destination beyond imagination. Known as the "Garden Island," it offers a wide array of adventures, diving opportunities, and hiking trails. Your journey to Fiji's third-largest island promises to be both enjoyable and enriching, with plenty of sights and experiences to cherish.
While you're all set for an adrenaline-packed adventure on this lush island, it's essential to allocate some time for much-needed relaxation. How, you may wonder? Well, Taveuni is blessed with unparalleled natural beauty and an aura of profound tranquility, making it the perfect setting for a Fijian spa massage. This is one of the finest ways to unwind, rejuvenate, and replenish your energy after all your explorations and discoveries. The unique environment and natural products used in these massages are nothing short of perfect and immensely rewarding.
You might not have time for all the incredible activities Taveuni has to offer, but it's absolutely worth sparing some of life's precious moments to unwind in this tropical paradise, which will help you reinvigorate your body and soul. Let's now explore some of the best resorts in Taveuni that offer amazing and relaxing massage experiences to help you connect and rejuvenate.
Taveuni Palm Resort
Photo Credit: Taveuni Palms Resort
Enjoy a tranquil and rejuvenating experience at Taveuni Palms Resort spa. The spa treatments offered at the resort provide a wonderful opportunity to revitalize yourself within the comfort of your bure. The highly trained staff will assist you in unwinding and finding peace in your private bure. During your treatment, the massage therapist will exclusively use Pure Fiji products. These natural products have earned the country's top preference due to their outstanding results and exceptional quality.
Makaira Resort
While you'll undoubtedly relish a delightful and private stay at the resort, complete with extraordinary views that are truly picturesque and heavenly, there's no denying that your body will also benefit from a fantastic therapeutic spa experience. Delight in a Fijian massage that takes place against the backdrop of the sea, where Pure virgin coconut oil and flower extracts are utilized to nourish, moisturize, and enhance the beauty of your skin. This gentle massage, using island techniques, will assist you in achieving full-body balance. Reinvigorate both your body and mind through the right massage pressure and the rejuvenating power of these pure products.
Garden Island Resort
Photo Credit: Garden Island Resort
They say, "When in Rome, do as the Romans do," and similarly, when in Fiji, "relax like a Fijian." The natural spa at the Garden Island Resort is nestled in a private bure setting, enveloped by a lush jungle and a cascading rock waterfall. At the resort, you're treated to a range of exceptional treatments. You can simply unwind with a relaxation massage or opt for complete rejuvenation with the resort's Fijian Bobo massage, which incorporates traditional Fijian techniques to alleviate stress from head to toe. But why stop there when there's more to indulge in? You can also choose a sweet sugar scrub, a Pure Fiji facial treatment, and a manicure and pedicure to conclude your incredible spa experience.
Tides Reach Resort
Indulge in a splendid spa day at Tides Reach Resort. The options available here are truly exceptional, including the Tides Reach Massage, Four-Hand Massage, Hot Stone Massage, Dilo Rescue Wrap, and the Couples His and Her Massage Package. Highly skilled therapists will expertly alleviate the stress accumulated from your daily routine, employing all-natural Pure Fiji products to revitalize and rejuvenate your body and spirit.
Photo Credit: Tides Reach Resort
Taveuni Island Resort and Spa
The Spa at Taveuni Island Resort and Spa offers nothing short of pure luxury, comfort, and relaxation. Bid farewell to your long-standing stress with their therapeutic massages. You can enjoy a blissful massage in their spa or outdoors on the private massage deck, serenaded by the soothing sounds of the waves. And that's not all – enhance your relaxation on their magnificent sunset/yoga deck, which boasts breathtaking views. The spa exclusively uses all-natural Fijian-made products to soothe and pamper you into a state of complete relaxation.
Photo Credit: Taveuni Island Resort and Spa
Matangi Private Island Resort
What better way to attain a stress-free body than through amazing Fijian techniques designed to alleviate all the tension that has built up, all in an open setting? Indeed, the luxurious Ocean Spa at Matangi Private Island Resort is a must-visit. Nestled on the water's edge, it offers the utmost comfort and relaxation. Couples can enjoy a treatment room equipped with a Vichy-style tropical rain shower, a lounge area, and an over-water deck that's perfect for further relaxation after your treatment. The resort's treatments are infused with traditional Fijian massage and authentically crafted Fijian therapeutic rituals, featuring the purest products to benefit your body.
Photo Credit: Matangi Private Island Resort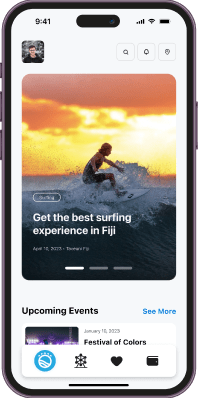 The only super app
you need in Fiji.