Pamper yourself with a luxurious holidays at Six Senses Fiji
Six Senses Fiji is located in a magnificent secluded bay on Fiji's Malolo Island, known for its idyllic crystal clear waters, white sandy beaches, thick tropical forests, and excellent climate. The private golden sand beach frontage stretches over 2,100 feet in length. Six Senses Fiji represents a luxury surf resort never before seen in Fiji.
Just a short fifteen-minute boat ride from the resort lies the world-famous break of Cloudbreak. Year-round waves are available for all abilities at Six Senses Fiji, including lesser-known beginner waves and longboard sliders.
Sustainability lives at the foundation of the Six Senses Fiji and is reflected throughout the resort through active management of energy, water, waste, biodiversity, purchasing and chemical usage. The resort is 100 percent solar-powered and the first microgrid in the world to use Tesla batteries. The project includes tree reforestation on-site to offset the wood used in construction and coral reforestation to promote sea life and enhance the local marine environment. 
How many rooms are there in Six Senses Fiji?
Six Senses Fiji offers 26 spacious pool bures, all with private plunge pools. There are also 60 luxury residences (3, 4 and 5-bedroom configurations) which form part of Six Senses Fiji's extraordinary accommodation offering. The 60 residences vary in size and average from approximately 6,500 square feet of interior and exterior space up to 10,500 square feet, all with private pools and situated on the island's west side, where they enjoy the idyllic Fijian sunsets.
Imagine a perfect white sandy beach just a few steps beyond your private plunge pool. Six Senses Fiji has been designed with families and togetherness in mind. Kids and big kids alike will love it here. Water activities are plentiful and ideally matched to the expansive but safe resort lagoon. Snorkelling lies just a stone's throw away. The Kid's Centre has been designed as a centrepiece of the property, kids will be inspired and parents refreshed.
Six Senses Experience
The resort includes a treetop yoga platform, state-of-the-art fitness gym, recreation club house with flood-lit tennis and a comprehensive Kid's Center. Other recreational activities include world-class surfing, boating, sailing, diving, snorkelling and sea kayaking. Also, two full-service marinas are located within the resort and are available for guest's private yachts and charter leisure boats.
Dining at Six Senses Fiji
The property includes a superb range of culinary and beverage offerings, including two restaurants, an outdoor pizzeria and grill, three bar options, a gourmet food market, a walk-in wine cellar, and a tasting table, all set amongst the tropical landscape. Locally inspired and sustainably sourced, the resort's cuisine features ingredients grown onsite in the resort market gardens and from local farmers, markets and fishermen.
Six Senses Spa
Six Senses Spa Fiji is featured within the resort's wellness village, where guests will enjoy a layered approach to wellness that unites a pioneering spirit with treatments that go beyond the ordinary. Find an intuitive mix of science and human awareness, where a high-tech and high-touch approach defines a service that is crafted around the individual. The spa features the multidimensional Six Senses Integrated Wellness program, a personalized program based on the needs of each guest.
VIP Experience at Six Senses Fiji
Luxury Residences, VIP helicopter transfers, world-class waves and Six Senses service. Finally, a truly luxurious resort option for surfers seeking to tick Cloudbreak off their bucket list. Tropicsurf offers private guiding, high-speed luxury speedboat surf transfers, video analysis and jet-ski assist.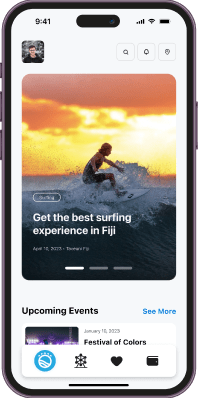 The only super app
you need in Fiji.