One week family itinerary recommendation in Fiji: Nadi and Suva
Embarking on a family vacation is an exciting opportunity to create enduring memories. Fiji, with its breathtaking scenery, warm hospitality, and rich cultural heritage, provides the ideal backdrop for an unforgettable family adventure. This one-week travel plan will take you from the lively city of Nadi to the charming capital of Suva, ensuring a perfect blend of relaxation, exploration, and fun activities for the entire family.
Exploring Fiji with the Family
A joyous family vacation involves plenty of shopping, dining, thrilling activities, and extensive travel. In this itinerary, you'll be venturing to Fiji's main island, Viti Levu, where the road infrastructure is well-maintained, guaranteeing a comfortable and enjoyable journey. Renting a car in Fiji is an excellent option for your travel needs, granting you the flexibility to manage your time and pace, which is particularly advantageous when traveling with kids.
Another viable method of getting around the mainland is by utilizing public transportation services. Local buses and express services offer a cost-effective means of reaching your destinations, allowing you to explore Fiji like a true local. Furthermore, reaching specific locations you wish to visit is hassle-free by hiring a taxi once you've arrived at your chosen destination.
Day 1: Arrival in Nadi and Resort Relaxation
Photo Credit: TripAdvisor
Upon arrival in Nadi, you'll be greeted by the warm Fijian breeze and the friendly smiles of the locals. Check into a family-friendly resort, such as the Radisson Blu Resort Fiji, where you can unwind and enjoy the beautiful beach, pool, and a variety of activities tailored for kids. Let the little ones build sandcastles while you soak up the sun and sip on refreshing tropical drinks. Who says you can't get out and start having fun on your arrival? Well there is always a good time to have all the fun in Fiji. Engage your kids in a fun and thrilling zipline adventure, the lush jungles and its surroundings are very calming and beautiful. And who doesn't like a good therapeutic treatment, when in Nadi be sure to get all dirty in mud at the Sabeto Hot Spring and Mud Pool it's one of Fiji's natural beauty secrets. Take a family walk to the most popular garden The Sleeping Giant wanders around the lush tropical surroundings amazed by over 200 varieties of orchids in the garden. No trip is complete without shopping so spend your money well shopping on great souvenirs and local products from Nadi Handicraft Market.
Day 2: Mamanuca Islands – A Tropical Paradise
Photo Credit: Captain Cook Cruises Fiji
No visit to Fiji would be complete without immersing yourself in the breathtaking beauty of the Mamanuca Islands. Embark on a day excursion to this idyllic archipelago renowned for its immaculate white sandy beaches and crystalline turquoise waters. Set sail on a boat journey to explore the mesmerizing coral reefs, teaming with vibrant marine creatures. Share the joy of snorkeling with your children as you admire the vibrant fish and intricate coral formations. Enjoy a delightful beach picnic, crafting sand sculptures and engaging in seaside games. Allow the serenity and natural splendor of these islands to envelop you, forging cherished family memories. It's an island-hopping experience in Fiji like no other.
Day 3: Coral Coast Adventure and Wildlife Encounter

Photo Credit: Micks Fiji Tour
It's now time to hit the road, venture to the Coral Coast, a stretch of coastline known for its stunning beaches and lush greenery. Traveling around is easy, hire a taxi or private car from Nadi to your destination. You can also board an express bus for a cheaper way and you can also drive your way to the stunning location by yourself through renting a car. It takes approximately 1- 2 hours to reach Coral Coast that too depending on your accommodation destination. You can book yourself a family friendly resort such as InterContinental Fiji Golf Resort and Spa whe3w you and your family can peacefully enjoy a pleasant and relaxing stay. When in Coral Coast visit the Kula Eco Park, a conservation centre dedicated to preserving Fiji's unique wildlife. Engage in interactive animal encounters, where your kids can get up close and personal with exotic birds, reptiles, and marine creatures. Take a leisurely stroll through the park's nature trails, learning about Fiji's diverse ecosystem and conservation efforts. Head to Sigatoka Sand Dunes National Park for some thrilling sandboarding down the dunes. Serious hikers will love the place for hard-core workout sessions. Don't forget to go Horse Riding on Natadola Beach, nothing beats exploring the island on horseback.
Day 4: Head to Pacific Harbour for Adventure Fun

Photo Credit: Zip Fiji
Pacific Harbour is known as the adventure capital of Fiji. You and your family can experience the thrill of adrenaline rush activities both land and water. You can reach Pacific Harbour with 1 – 2 hours to your desired accommodation. Book yourself a spacious, comfortable and relaxing stay at the Uprising Beach Resort or Blue Lagoon Resort with beautiful gardens and views. Enjoy an amazing day out river rafting on the Upper Navua River, the scenic beauty and adrenaline rush as a family. Zip through the jungle like a bird and admire the natural beauty of Pacific Harbour.
Day 5: Arriving in the Capital City
With less than 1 hour from Pacific Harbour you'll land into the capital city of Fiji. Suva is the busiest city where one can experience modern Fijian lifestyle, economic growth, rich culture and fashionable people with friendliest smiles. In short, welcome to the money making city. Despite its odds, the capital city offers amazing scenery, accommodation and fun activities. Check-in to your hotel such as Holiday Inn, Grand Pacific Hotel to simply unwind and relax after all that traveling. Take advantage of your hotel's pools to soak yourself into a cold refresh. Enjoy delicious meals and sip some cold beer.
Day 6: Explore the magnificent City
Photo Credit: TripAdvisor
Let's get moving in the city, embark on a day trip to the Colo-i-Suva Forest Park, the tropical setting of the park, trekking trails makeup for a good hiking experience for you and your family. Don't miss out on hiking to Mount Korobaba for a rewarding view of Pacific ocean. Enjoy hiking through lush rainforest trails, swim in natural pools, and spot colorful birds. It's a great nature escape for the whole family. Visit Fiji Museum to learn about the country's rich history and cultural heritage, it's a great opportunity for your kids to observe and deepen their cultural horizons. Take a stroll along the My Suva Park and indulge to mouth-watering foods served with love. Beat the Suva heat by quenching your thirst with local Moli Juice ice cold available outside of the Suva Municipal Market. Shop locally grown vegetables and fruits. Take some precious souvenirs with you from the Suva Handicraft Market to cherish forever.
Day 7: Wrap up your trip
It's time to say goodbye to the most happening journey of your life. You can travel back to Nadi International Airport either by express bus or hire a taxi for your convenience. If you're not in a mood to take long hours traveling then simply flyover to Nadi through a quick flight from Nausori Airport. This short flight will be for 35 – 40 minutes. At the Nadi International Airport you can relax at their lounge and shop at their duty-free section.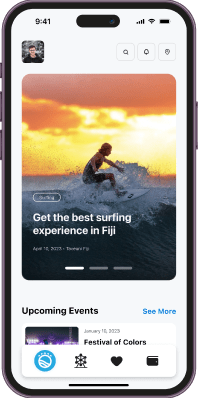 The only super app
you need in Fiji.