Most popular surfing spots in Fiji
Fiji offers some of the most amazing spots in the world for surfers. Fiji's beautiful, warm and consistent waves make it hard to resist surfing. If you're a beginner surfer, check out some of the spots mentioned below to up your game of becoming a pro in surfing. And for those experienced in surfing, be ready to surf in the paradise where you can enjoy a day out and not forget that experience for a lifetime. 
Listed below are some of the surfing spots you wouldn't want to miss the next time you're in Fiji.
Cloudbreak
Undoubtedly its breaks are ranked in the top ten best challenging waves in the world. Cloudbreak tends to get faster, shallower and more critical as it goes. Thanks to its 20ft swell, Cloudbreak is surfers' top choice due to the thrilling waves that are challenging to complete. Located on a sheltered reef just three miles South of Namotu Island Resort in Mamanuca Islands, it is a perfect getaway for all surfers. So if you love to challenge yourself to greater things, then Cloudbreak surfing spot should be on your list.
Wilkes Pass
Wilkes is a fun yet powerful right-hander break which allows all levels of surfers to surf but remains a challenging spot in Fiji. Wilkes are bigger than all other spots on the island as they are long and hollow and raised straight out of the very deep water at the end of the Malolo Barrier Reef. Wilkes is located one-mile northwest of Namotu Island Resort and is a 2-minute boat ride from the resort. Its open ocean reef pass breaks on the southern tip of a long exposed barrier reef. Wilkes will surely test your surfing skills and amaze you with how incredible the experience can be. 
Restaurants
Sometimes referred to as "Cloudbreak's Little Brother", Restaurants is considered by many as a great surfing destination in Fiji. It is literally named due to its location along a sharp coral reef directly in front of the restaurants on Tavarua Island. Restaurants is every surfer's fantasy as it's popularly known as 'skate park' because of their perfectly shaped tubular waves that make them stand out in the water. If you're looking for something fun yet thrilling at the same time, then Restaurants is your ideal spot for surfing in Fiji. The surfing spot is located just off Tavarua Island in Mamanuca Islands. 
Swimming Pools
A right-hander described Swimming Pools as 'clean', 'fun' and 'rippable'. Swimming Pools got their name from its crystal clear blue water colour, just like normal swimming pools but don't be fooled by its perfect and tame waves. During huge swells, they offer a perfect thick barrel. The pool is loved by all levels of surfers, especially for its best winds from the north-west, but in big swells, they can be heavy. With its right reef break that comes from the deep ocean with clean groundswell, giving it speed, length and power that is suitable for a wide range of surfing styles and boards. 
Desperation
Popularly known for its swells consistency, the left and hand-hander A-frame offers its surfers a great day of surfing and catching a wave. Winds blowing from the north-east create fast waves and nice hollows. The break-off point at desperation makes both right and left break 1-2ft higher than nearby breaks, mainly because they catch any southerly swell. Located outside Malolo Barrier Reef, Desperation is a few miles northwest of Namotu Island Resort. 
Natadola
The beach break on the Coral Coast is ideal for all beginners who have a major interest in surfing and for advanced surfers. The beach is located in Sigatoka, Viti Levu, on the mainland, which is one hour drive from Nadi. Natadola offers surfers a fun activity spot that all levels can enjoy. If you're looking for a relaxing surfing time, Natadola is a highly recommended spot.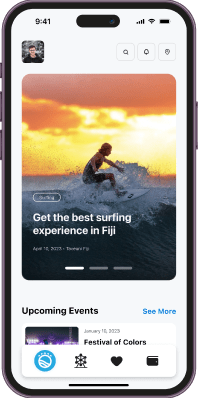 The only super app
you need in Fiji.