Most popular shopping spots in Fiji
There are so many shopping spots options in Fiji where you can shop till you drop. Some souvenirs or things you can buy in Fiji include accessories made of pearls and shells, coconut shell (bilo), bula wear and woven mats and baskets. Check out some of the shops frequented by the locals.
Shopping in Nausori
Paradise Exclusive Fiji – located at the R.Govind Creation Building, the main town. They offer a wide range of fashion and accessories, homeware and gifts, clothing, cosmetics and electronics products at a much cheaper price. The shop has two branches; one is in Nausori, and the other is in Lautoka.
Rups Big Bear – an iconic Fijian retail brand specialising in providing its customers with affordable quality products such as hardware, electronics, furniture and ceramic homeware. They also have Roop Ki Rani Collection, which is their clothing line of Indian wear, including a bridal collection. Rups Big Bear has a total of 18 stores operating in all major towns and cities in Fiji.
Jiwan Bhai Complex – located at 6 Ross Street, has a huge selection of items ranging from clothing, shoes, household items, fabrics, jewellery, massage salon and money exchange. A one-stop shop complex for everyone.
Nausori Market – a reliable shop for fresh fruits and vegetables.

Shopping in Suva
TappooCity Suva – a great place to chill with friends and family. Located at Thomson Street, Suva, TappooCity is a retail store that offers souvenirs, branded and luxury products. If you are hungry after your shopping, the food court also boasts some of the most delicious local delicacies. Tappoos also have multiple outlets in major cities in Fiji.
Jack's Suva – a perfect family store. Located at Pier Street Suva, offers a great range of western clothing, accessories, handicraft souvenirs and branded products for women, men and children. They also have Jacks little India clothing line of heavy, simple Indian wear and an amazing bridal collection. Jack's of Fiji operates a total of 50 retail stores of which 13 are major downtown stores at Nadi, Sigatoka, Suva, Nakasi, Nausori, Lautoka, Ba, Labasa and Savusavu.
Suva Municipal Market – a go-to place to shop for fresh fruits, vegetables and seafood such as fish, lobsters, prawns and crabs. They have a wide range of spices and kava as well.


Damodar City – a one-stop shop experience for everyone. Located at 30 Grantham road, Raiwai, Damodar City has a cinema, clothing outlets, supermarket and an amazing food court. There is also another complex in Labasa.
Suva Handicraft Market – located in the centre of Suva, offers tourists a variety of authentic and fairly inexpensive Fijian handicrafts. You can source for the perfect gift and souvenir for your loved ones at Suva Handicraft Market.
Prouds Suva City – located at Renwick Road, Suva, is a luxury gifting retail store specialized in branded products including watches, accessories, perfumes, and electronics. Prouds has 17 stores in towns and cities, including Nadi International Airport and resorts.
Cost-U-Less – a super convenient store with a wide range of homeware, tools and groceries. They are expensive, but they are easily the most reliable stores for locals to get what they need.
Extra Supermarket Flagstaff Suva – If you are looking for some top-quality products across the world, look no further. You're guaranteed to have a pleasant shopping experience in an air-conditioned environment. From groceries to frozen food, you'll discover good quality products at reasonable prices.


Shopping in Nadi
Nadi market – enjoy fresh and locally produced vegetables and seasonal fruits.
Kookie Jewel – offers some of the best fashion accessories, shell and coco necklaces, freshwater pearls and shell pearl jewelleries, woven Mats and wooden frames. This shop is located at 192 Baker Lane, Nadi.
Sigavou Studio – arts created by award winning artists. Discover amazing art from the gallery and purchase some of the best Fijian arts. Located at level 2, Waqavuka street Nadi.
Pure Ocean Suprette – located at Wasawasa Road Wailoaloa Nadi, one of the most convenient supermarkets and liquor shops in Nadi.
Island Style Peanut Butter Fiji – located at shop 1, Lot 3 Palm Road Wailoaloa Nadi, Island Style is Fiji's finest quality peanut butter shop. Locally produced in Nadi, the peanuts are delicious and crunchy. They come in assorted flavours. Make for perfect souvenirs from Fiji.


Photo by Island Style Peanut Butter
Shopping in Lautoka
Pacific Island Arts – a clothing store that offers hand printed clothing. A first-of-its kind in Fiji. The brand is uniquely rooted in Tahiti's culture and is located at Vitogo Parade Lautoka.
Bargain Box – a variety shop which includes clothing, home deco and furniture items. As its name suggests, this is where you go for bargains. Located at 155 Vitogo Parade Lautoka.
Shiu Prasad & Sons Limited – located at 14 Walu street, Marine Dr, Lautoka, Shiu Prasad has the best selection of Indian spices.
Lautoka Market – shop for fresh fruits, vegetables or seafood.
Shopping in Sigatoka
Batavia Handicraft and Cafe – one of the best souvenir stores in Coral Coast. Located at Queens Road, Vatukarasa, Batavia is a cool shop for you to purchase some local handicrafts.


Shopping in Savusavu
Sea Lovers Wines & Spirits – a gourmet grocery store located on main street of Savusavu. Sea Lovers is one of the best grocery and liquor stores in Savusavu, which cannot be found anywhere else in Vanua Levu. Some of the products include cheese, sauces, coffee, raw nuts and seeds and local spirits.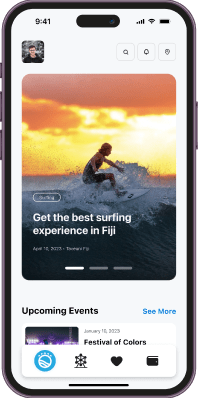 The only super app
you need in Fiji.