Most popular apartments in Suva
Suva, the bustling capital city of Fiji, is a fantastic destination for those looking to experience the modern Fijian lifestyle. With stunning views, fascinating attractions, historic buildings, and delicious food, Suva has it all. Fortunately, visitors can enjoy a stylish yet affordable stay at several popular apartments in the city, which provide an excellent base for exploring and connecting with the local culture.
Capricorn Apartment Hotel
The Capricorn Apartment Hotel is a great choice for travelers seeking affordable yet comfortable self-contained apartments. Guests can enjoy a private pool, landscaped gardens, and breathtaking views of Suva Harbour. Conveniently located within walking distance of popular attractions such as the Museum, Thurston Garden, Albert Park, shopping areas, and food courts.
Elixir Hotel and Serviced Apartment
For travelers who enjoy morning and afternoon runs, the Elixir Apartment is an excellent choice as it is just a few minutes walk from Albert Park. These apartments feature a private balcony and a fully equipped kitchen, perfect for those who prefer to cook their own meals. The apartment complex also offers a golf course, entertainment activities, a bar, and free parking.
Suva Point Apartments
Photo credit: Suva Points Apartment
If you're looking for a luxurious, spacious, and affordable stay, the Suva Point Apartment is an excellent option. These apartments offer a home-away-from-home experience with modern designs, large walk-in wardrobes, marble kitchen tops, energy-star appliances, and resort-style balconies. The apartments are conveniently located near shopping areas, fitness centers, parks, supermarkets, cinemas, local schools, and universities.
Capitan Hill Apartment
Located on Tamavua Hill, the Capitan Hill Apartment offers breathtaking views of Suva Harbour, Wailoko River, and tropical highlands. These two-bedroom apartments provide guests with luxurious amenities, full privacy, and peaceful surroundings.
Na Hina Tower
Photo credit: Na Hina Tower
Situated in a prestigious location, the Na Hina Tower provides guests with tranquil views of Suva Harbour and Colonial-era buildings. The fully furnished apartments offer spacious Pacific living with high-end home entertainment systems and fully equipped kitchens. The tower is easily accessible to shopping malls, restaurants, and bars, and features shared facilities such as a swimming pool, entertainment deck, barbecue area, and in-house gym.
Bhans Tower Apartment
Located in the heart of Suva, the Bhans Tower Apartment offers guests a self-contained apartment with spacious rooms, a private balcony, and a fully equipped modern kitchen. Visitors can enjoy homely accommodation with amazing sea views from the balcony, as well as easy access to supermarkets, cafes, restaurants, and golf clubs.
Town House Apartment Hotel
Photo credit: Town House Apartment Hotel
The Town House Apartment Hotel offers guests a pleasant and relaxing stay with amazing city views from the terrace. These self-contained apartments allow visitors to enjoy a spacious and affordable stay while still being close to local amenities such as supermarkets, food courts, and the Fiji Museum. The 24-hour front desk and room service are also available for guests' convenience.
We hope this information helps you choose the perfect apartment for your stay in Suva!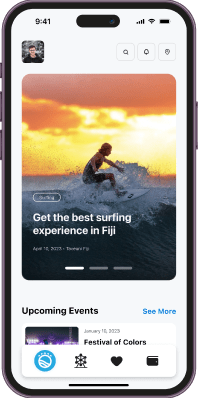 The only super app
you need in Fiji.