Latest travel restrictions for Fiji
Like many other countries, Fiji too closed its borders to international travellers during the Covid-19 global outbreak. Listed below are things you need to know before planning a trip to Fiji.
What are the entry requirements for travellers to Fiji?
Fiji has reopened its borders for tourists since December 1, 2021. From 14 February 2023, international travellers arriving into Fiji by air or sea will no longer be required to provide proof of COVID-19 vaccination and travel insurance to enter Fiji. However, its a good idea to check out your country's latest restrictions on travelling to and from Fiji. These may include mandatory tests and quarantine requirements upon your return.
No quarantine is required for entry, but travel insurance is recommended.
Can I travel freely around Fiji, or are there restrictions?
With the reopening of the international borders and quarantine-free stay, you can start exploring the country freely. You can move to an outer island, go on a tour and visit attraction places without any restrictions. In short, there are no travel restrictions for tourists in Fiji, and you can go anywhere you like. For your safety, it is recommended that you use Care Fiji Commitment venues and experience. 
What is Care Fiji Commitment (CFC)?
Care Fiji Commitment (CFC) is a WHO-approved best practice health and safety measure standard. These industry-wide standards apply to accommodation, activity operators and transfers. They include the appointment of Wellness Ambassadors to ensure that COVID-safe protocols are managed, monitored and staff are trained across their businesses. All CFC business operators are 100% vaccinated.
Is it safe to travel to Fiji?
Yes, it is absolutely safe to travel to Fiji. Fiji has done everything to keep you safe while you enjoy your stay in the tropical paradise. The aviation and tourism industries have adopted COVID-safe protocols across their businesses to welcome you safely. With new safe travel norms, the CFC ensures that you receive the highest standard of health and safety measures while in Fiji. It is recommended that you book your accommodation and tours with CFC certified businesses so that you remain safe and protected.
All the activities on GoFiji super app are CFC certified.
What is Fiji's vaccination rate?
Fiji is one of the most highly vaccinated tourism destinations in the world. More than 95% of adults (18+) are fully vaccinated, over 90% of children (12-17 years old) are fully vaccinated, and currently the country is conducting the Covid-19 vaccination campaign for children aged 5-11 years old. With that, it is safe for you to travel around town and cities and mingle with locals.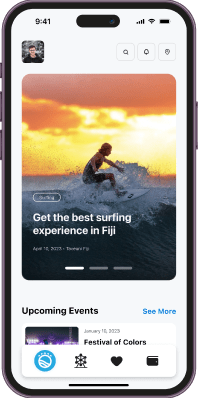 The only super app
you need in Fiji.