Island-hop with SeaFiji, fast boat transfer service
If you are looking to island-hop to any of the Mamanuca Islands Resorts or Yasawa Islands for excursions on the shore, lunch, cocktails, or watersports, SeaFiji is there for you. SeaFiji is locally owned and a pioneer of water taxis in Fiji, servicing the Mamanuca and Yasawa islands for the past two decades. SeaFiji has built a strong reputation for its dependability that the industry knows and trusts. Operating around the clock day and night means you get to shuttle between the islands, anytime.
With crews and captains that are fully trained and qualified professionals with 400 nautical miles average a day on the water. All vessels are in survey with MSAF and live tracked via TrackSolid.
SeaFiji operates full and half-day charters in and around the Mamanuca and the lower Yasawa waters with your choice of activity: Trolling, Popper Casting, Island Safaris, Resort visits and snorkelling on secluded reefs. You can also hire a water taxi to enjoy uninhabited islands, beachcombing and snorkelling on secluded coral reefs.
SeaFiji operates out of Port Denarau, a hub for a wide choice of cruises to nearby islands.
SeaFiji services include:
Fast Boat Transfers 24hrs a day, 7 days a week.
Transfers to/from Nadi Airport to Port Denarau (approx. 35 mins).
Transfers to/from Nadi Resorts/Hotels to Port Denarau.
Air-conditioned guest lounge at Port Denarau while awaiting your island transfer.
Fast twin engine all weather boats for maximum comfort.
GPS enables both day & night transfers to your island resort.
Game Fishing, Custom-made Cruises, Snorkelling Trips to pristine locations and Inter-Island transfers are also available.
Take advantage of being able to connect to offshore islands after arriving late from international flights or departing on early morning connections, giving you the bonus of spending maximum time at your resort.
Enjoy the comfort of SeaFiji's air-conditioned Courtesy Guest Lounge while waiting for your fast boat transfer at Port Denarau.
Island transfer times will vary from 30 mins to 1hr depending on sea and weather conditions.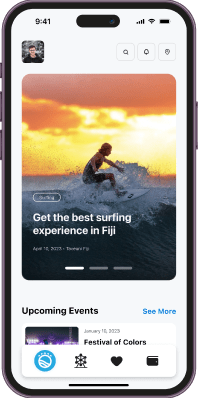 The only super app
you need in Fiji.