Important things to note when travelling to Fiji
Weather in Fiji
Fiji has a warm tropical climate perfect for beachside holidays all year round. The temperatures in Fiji range from 26°C to 31°C on average.
The wet season is normally from November to April with heavy, brief local showers and contributes to most of Fiji's annual rainfall. The best months to visit Fiji are from late March to early December.


Clothing
You should wear light tropical attire such as swimwear, shorts and T-shirts.
You can find the locals wearing sulus (known throughout the Pacific as parea or sarongs) on a daily basis. The kilt-like wrap-around garment has been worn by men and women in Fiji since colonisation in the 19th Century. A woman can wear a sulu in more than 10 different ways.
When visiting the villages, you are required to dress modestly. Avoid shorts, halter tops, bikinis and ultra-brief trunks. Unless you are a chief, please do not wear a hat as it's considered disrespectful.


Etiquette
Fijian culture is vibrant and friendly, and you can expect a warm welcome at any of the villages you visit. It's important to be respectful at all times when visiting a Fijian village.
Fijian villages are generally not open to the public and visits are by organised tours. When visiting a village it's customary to bring a gift of yaqona (kava) with you. This is for your sevusevu ceremony during which guests request permission from the turaga-ni-koro (village chief) to visit the village. Therefore, when visiting a Fijian village, the visiting party's spokesman will have to present their i-sevusevu to the village chief to communicate the purpose of their visit and to seek the necessary permission to carry out their activities. The visiting party's spokesman is responsible for all formal communications between them and the village chief.
A Yaqona or Kava ceremony involves certain protocols that include seating arrangements and roles during the ceremony. As a visitor, you must sit at the designated spot provided by your village host. Everyone sits on the floor, as it is considered disrespectful to sit on a chair. Exceptions can be made if the individual has mobility issues and can be seated at a distance away from the crowd.
When drinking yaqona, you must clap once before receiving the yaqona bilo (bowl) and prior to drinking must greet the villagers and their chief. Consume the yaqona in one gulp. After drinking, return the bilo (bowl) to the bearer and clap three times.
It's polite to ask permission if you'd like to take photos of the kava ceremony or people.
Remember to dress conservatively when you visit a local village. Ladies should wear a sulu (sarong) over their shorts or trousers.
Don't wear anything on your head, including caps/hats/sunglasses.
In Fiji, Sunday is a special day for families. Fijian usually reserve this day to relax and spend time with loved ones. Don't be surprised that most establishments and traditional villages are closed on Sundays. Thus, make the most out of your Sunday roaming around town instead.
If you are visiting a Fijian household, observe proper etiquette. Before you enter, leave your shoes outside and wait for your host to let you in. Slightly crouch when passing by the door as a show of respect.
It is customary to sit on the floor.
Keep the tone of your voice moderate (avoid yelling or acting overly excited).
When visiting a village, and if you're offered food, you'll need to wait for the food to be blessed before digging in. After everyone has gathered around the table, the head of the house will say masu (grace) for the meal. After the blessing, you can start your meal.
Fijians consider the head the most sacred part of the human body. That's why touching someone's head, even the heads of young kids, is a gesture you should avoid when in Fiji. Instead of patting someone's head, you can ask for a high-five or hug.
Don't place your hands on your hips.


Power plug used in Fiji
Fiji uses power plugs type I, which is the plug that has three flat pins in a triangular pattern. Fiji operates on a 240V supply voltage and 50Hz.


Smoking in Fiji
Fiji has strict no-smoking laws. You are strongly encouraged to only smoke in designated areas. Smoking in public places may result in a steep fine.


Tipping in Fiji
While always appreciated, tipping is not customary in Fiji. At some resorts, you may find a communal tip jar where guests can contribute funds that are split amongst the staff.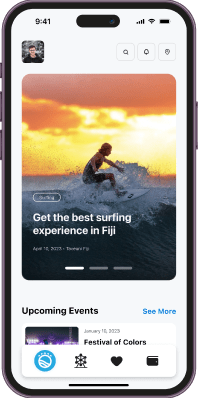 The only super app
you need in Fiji.