Immerse in the luxury Fiji experience at Kokomo Private Island
This island is the epitome of privacy and luxury. Each one of the exclusive villas includes its own private pool, tropical walled garden, stunning ocean views, and direct beach access. Each villa also boasts an open plan design, featuring a large living area and a kitchenette with air-conditioning and ceiling fans throughout for ultimate comfort.
Cradled within the Great Astrolabe Reef, Kokomo Private Island is a paradise for adventure seekers, a restorative sanctuary for families and an enticing retreat for honeymooners. Fusing unscripted luxury with a bounty of space and generosity of time, this stunning unspoiled and naturally immaculate island is more than a backdrop, it's your home for as long as you choose to linger. Explore one of the best dive and snorkelling locations on the planet, hike to a waterfall on a nearby island or relax in the Yaukuve Spa Sanctuary.
The island itself is a 140-acre speck of a place, a 45-minute seaplane ride from Fiji's main island. And the resort itself comprises a mere 21 villas plus five residences, which means that even at capacity it still has the rarefied air of a private island retreat.
Villas range from one to three bedrooms, residences from three to six, and in every configuration they're as lavish as can be — even the one-bedroom villas come with private infinity pools, outdoor showers, lavish bathrooms, and plentiful indoor and outdoor lounge space. The style is part contemporary, part classic South Pacific, and the craftsmanship throughout is first-rate.
Also first-rate is the service, as is the singing — there's a gospel choir tradition in the region from which many staff members are drawn. The restaurants practice farm-to-table and "dock-to-dish" sourcing, the spa offers everything from massage to yoga to meditation, and the activities, as you'd expect, include just about anything that can be done by sea: fishing, kayaking, surfing, sailing, and diving some of the most extraordinary coral formations in the world.
How to get to Kokomo Private Island Resort
From Nadi International Airport, guests will be transferred to Kokomo Private Island Resort by seaplane or helicopter. Please contact CustomerService@TabletHotels.com to make arrangements. This hotel is implementing enhanced safety and cleaning measures as required by the Tablet Recovery Pledge. Our Customer Service team is happy to provide full details of each step being taken.
Located on the edge of the Kadavu archipelago, Kokomo Private Island is a tropical hideaway on the island of Yaukuve, surrounded by the Great Astrolabe Reef. From the moment you arrive by seaplane or helicopter your every need is catered for, whether you're on honeymoon or a family escape.
Accommodation is in 20 beachfront villas or five luxury residences. The sustainably designed buildings feature open-plan living areas with subtle Fijian touches, indoor/outdoor bathrooms, and tropical walled gardens with a private infinity pool and sundeck.
Savor Fijian cuisine at the Beach Shack, sample Asian street food at Walker D'Plank, or enjoy pizza at the Pool Cabana. All champion fresh, locally sourced cuisine and delicious cocktails.
Snorkel or dive amongst the vibrant underworld wonders, laze on pristine beaches, enjoy watersports, trek to secret waterfalls, go island hopping, and indulge in a blissful treatment in the spa sanctuary.
Kokomo Private Island Information
Location & Getting There
Located south-east of Fiji island, Kokomo Private Island is a short 45-minute transfer from Nadi International Airport or a 25-minute transfer from South of Suva via a private Twin Otter seaplane or helicopter.
To ensure transfer on the same day as arrival, flights must be scheduled to land before 15:00, and departing flights must be scheduled after 10:00. Due to the strict weight and capacity restrictions for each transfer, one (1) carry-on luggage piece with a maximum weight of 10kg, per person is permitted on the flight. Any additional luggage will be delivered overnight.
Accommodation
This Private Island has 21 Beachfront villas and 5 Luxury Residences. Each accommodation has been designed for privacy and features sustainable design and traditional Fijian nuances, whilst boasting striking views of the island and its surroundings. All luxury residences come with their own private infinity pool and garden.
Activities
There will never be a dull moment at Kokomo Private Island. Experience from a list of activities that the resort has to offer, including diving, snorkeling, fishing, surfing, various water, and land-based activities, excursions, and coral garden restoration. After experiencing a morning of water activities or excursions, leave behind the world and spend the afternoon lost in relaxation with a highly-skilled therapist at Yakuve Spa Sanctuary. Holistic practices, such as Yoga, Pilates, and Meditation class are available upon request.
Children
Apart from a myriad of experiences, the whole family can enjoy; from the resort pool, tennis, beach games, and daily excursions. Kokomo Private Island also offers complimentary entry to the kids' clubs or babysitting services. Kokomo has 3 different kids clubs suitable for children of different ages: Infants Club (0 – 3 years), Kaji Club (4 – 11 years), and Teen Club (8 – 14 years). Bespoke children's programs and activities are scheduled during school holidays and are available on request.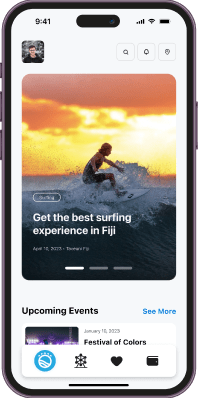 The only super app
you need in Fiji.