How to travel to Fiji guide
If you're thinking: sun, sea, sand, and exotic culture, Fiji is the perfect place for you!
Unfortunately, it's in the middle of the Pacific Ocean, a rather secluded part of the planet. Thus, a little homework is required. Here's a tourist guide of everything you need to know about getting into the beautiful country of Fiji.
How to get to Fiji
Your destination is Nadi International Airport (NAD). You'll arrive at the western side of the main island Veti Levu.
Here is a list of airlines that operate direct flights to NAD, or the connection you can expect to make.
Note: Direct flights are marked with *
If you're flying from North America to Fiji:
Air New Zealand
from Los Angeles* – daily
from Los Angeles* – daily
from Vancouver via Honolulu – X2 weekly
If you're flying from UK or Europe to Fiji:
From London via Los Angeles – daily
From London via Hong Kong – daily
Korean Air
From London via Seoul
If you're flying from Australia, New Zealand, or South Africa to Fiji:
From Brisbane* – daily
From Sydney* – daily
From Brisbane* – daily
From Sydney* – daily
From Melbourne* – 4X weekly
From Auckland* – daily
From Christchurch* – weekly
Air New Zealand
From Auckland* – daily
If you're flying from Asia to Fiji:
Air New Zealand – from Hong Kong* – daily
From Singapore
From Delhi
From Mumbai
From Kolkata
From Chennai
From Bangalore
If you're flying from elsewhere in the Pacific to Fiji:
From Apia, Samoa
From Funafuti, Tuvalu
From Honolulu, Hawaii
From Christmas Island, Kiribati
From Tarawa, Kiribati
From Port Vila, Vanuatu
From Nuku'alofa, Tonga
Note: All information is subject to change by the airlines.
Covid-19 protocols for Fiji
Effective 14 February 2023, international travellers arriving into Fiji by air or sea will no longer be required to provide proof of COVID-19 vaccination and travel insurance to enter Fiji.
Check out the official Fiji tourism website for the latest updates.
Visa requirements for travellers to Fiji
You do not need a visa if you come from any of the following countries:
Antigua & Barbuda
Argentina
Australia
Austria
The Bahamas
Bangladesh
Barbados
Belgium
Belize
Bermuda
Botswana
Brazil
Brunei
Bulgaria
Canada
Chile
China
Columbia
Cook Islands
Cyprus
Czech Republic
Denmark
Commonwealth Dominica
Estonia
The federal Republic of Germany
The federated States of Micronesia
Finland
France
The Gambia
Ghana
Greece
Grenada
Guyana
Holy See (Vatican)
Hong Kong
Hungary
Iceland
India
Indonesia
Israel
Italy
Jamaica
Japan
Kenya
Kiribati
Latvia
Lesotho
Liechtenstein
Lithuania
Luxemburg
Macau
Malawi
Malaysia
Maldives
Malta
Mauritius
Mexico
Moldova
Monaco
Nauru
The Netherlands
New Zealand
Nigeria
Norway
Palau
Papua New Guinea
Paraguay
Peru
The Philippines
Poland
Portugal
Republic of Ireland
Republic of the Marshall Islands
Romania
Russia
Samoa
Serbia
Slovak Republic
St Kitts & Nevis
St Lucia
St Vincent & the Grenadines
Seychelles
Sierra Leone
Singapore
Slovenia
Solomon Islands
South Africa
South Korea
Spain
Swaziland
Sweden
Switzerland
Taiwan
Tanzania
Thailand
Tonga
Trinidad & Tobago
Tunisia
Turkey
Tuvalu
Uganda
United Arab Emirates
Ukraine
United Kingdom of Great Britain and Northern Ireland
United States of America
Uruguay
Vanuatu
Venezuela
Zambia
Zimbabwe
Should you require a visa, there are 2 types of visas available:
Single Entry Visa (SEV) — valid for 3 months and can only be used once.
Multiple Entry Visa (MEV) — valid for multiple entries within a 12-months period, starting from the date of issue. The visa-holder can then remain in Fiji for a maximum of 4 months.
Assuming that you are applying for a tourist visa, prepare these documents for application:
A fully completed visa application form
A certified copy of your passport main page with bio data
Two coloured recent passport-size photos
Confirmation of pre-booked hotel if available
A copy of your travel itinerary/ticket
Proof that you have sufficient funds to financially support yourself during the duration of the stay, possibly your bank statement or visa cards
Proof of approved visa and onward ticket, if you plan to travel to another country after Fiji
Consent letter from your spouse if you are travelling alone
Consent letter from your parents if you are below 18 years old and travelling alone
Letter stating approved leave from work or school, stating the number of days of absence. The letter is to be signed and stamped by the employer or school principal
If you plan to stay with your friends or family members, the following are required:
Sponsoring letter by the local host
A copy of the host's valid ID/passport/residence permit
Refer HERE for information on other types of visas.
Vinaka (thank you) and happy travels!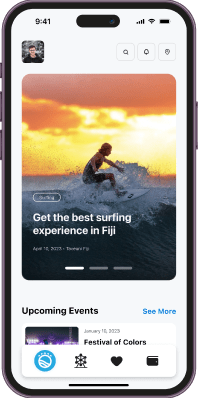 The only super app
you need in Fiji.