Holiday homes recommmendations in Fiji
Fiji, an enchanting island nation nestled in the South Pacific, is renowned for its breathtaking beaches, pristine turquoise waters, and luxuriant tropical landscapes. This idyllic destination has long captured the hearts of travelers seeking an unforgettable holiday experience. Fortunately, Fiji offers an array of holiday homes available for rent on its picturesque islands.
These holiday homes present an enticing opportunity for guests to immerse themselves in Fiji's natural splendor while relishing the comforts of home. Whether you're traveling with a large group, your family, or as a solo adventurer, and you're in search of accommodation that is both affordable and private, holiday homes stand as the ideal choice to cater to all your essential needs. Here, you become the master of your time, embracing the laid-back Fijian lifestyle known as 'Fiji time.' Below, we've curated a selection of the finest holiday homes where you and your family can enjoy a serene and secluded stay, truly living life the Fijian way.

KidsFirst Apartments and Holiday Homes
Photo Credit: KidsFirst Apartment and Holiday Homes
An economical and comfortable choice awaits you in the capital city. Suva, one of Fiji's bustling urban centers, provides a taste of modern Fijian life. Here, you can immerse yourself in the vibrant atmosphere of the country's financial hub. The KidsFirst Apartment is an excellent option for accommodating large groups, offering a spacious three-bedroom apartment. With its prime location, you'll have easy access to attractions such as museums, the scenic sea wall, upscale resorts, supermarkets, as well as local clubs and shops. Revel in ample space, convenient parking, and the lively nightlife of Suva city during your stay.

The Williamson House

Photo Credit: KidsFirst Apartment and Holiday Homes
Discover another exceptional and secluded homestay in the heart of the capital city – Williamson House. This apartment boasts contemporary décor and exudes an opulent ambiance. With two bedrooms that can accommodate up to five guests, it offers an exclusive and delightful stay. Positioned on Williamson Road, the apartment provides picturesque views of Albert Park and is conveniently within walking distance of the museum, dining establishments, the Grand Pacific Hotel, the Holiday Inn, restaurants, bars, and the city center. Guests here have the added perk of enjoying the deck area and pool for a truly relaxing experience.
Vuni Pine Homestay
Photo Credit: Vuni Pine Homestay
Nestled in the scenic town of Savusavu on Fiji's second-largest island, Vanua Levu, you'll find the charming Vuni Pine Homestay. This cozy one-bedroom residence offers exceptional affordability along with breathtaking views that are nothing short of mesmerizing. With the capacity to accommodate up to four guests, the homestay provides a fully equipped kitchen and a private balcony that treats you to stunning vistas of the sea. While the home may be compact in size, you'll find pure relaxation as you sway in the hammock, taking in all the natural beauty that Savusavu has to offer. Additionally, Vuni Pine Homestay offers a range of activities, including hiking and fishing, ensuring you're kept engaged and thrilled during your stay.
Heavens of Vuda
Photo Credit: Heavens of Vuda
For those who relish the freedom of unstructured days and seek a tranquil and serene haven for their delightful sojourn, look no further than Heavens of Vuda. This inviting two-bedroom abode provides a snug ambiance enveloped by lush gardens and a secluded beach. It's an absolute must to behold the breathtaking sunrises and sunsets right from the comfort of your new home away from home. The accommodation offers the convenience of a balcony and a fully equipped kitchen, allowing you to whip up delectable Fijian meals to savor with your cherished companions. Located less than 13 kilometers from the venue, the thrilling Big Bula Waterpark promises endless fun. To kickstart your day, relish the continental breakfasts provided each morning.
Holiday Hire Fiji
The Holiday Hire Fiji Villa in Lautoka is the ideal choice for families on a budget. This lodging option includes a terrace with scenic views, well-maintained gardens, a fully furnished kitchen, complimentary Wi-Fi, and convenient airport transfers. Consider this generously spaced residence your second home and take advantage of the villa's array of amenities, perfectly suited for both couples and larger groups.
Photo Credit: Holiday Hire Fiji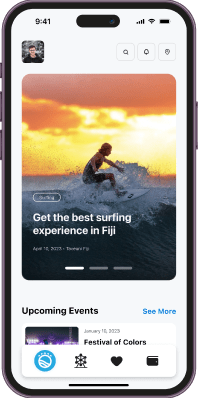 The only super app
you need in Fiji.