Helicopter tours and services in Fiji
What better way to explore Fiji than taking a helicopter ride for that stress-free treat away from all the hustle and bustle of city life. Taking a flight over Fiji Island is truly mesmerizing as you get to witness the beautiful white-sandy beaches, lush palm-tree and turquoise blue water from the top. 
Hopping onto a helicopter means getting an opportunity to experience a closer look at Fiji's breath-taking landscapes and scenery. If you are wondering where you can take helicopter services in Fiji, below are the helicopter service providers in Fiji.
Heli-Tours Fiji 
The Heli-Tours Fiji is located just outside of Denarau. Their helipad is located on the Nadi-Denarau Road just before the main bridge and entrance to the Denarau Island. The tour offers amazing scenic flight options over Fiji's diverse scenery. Flying above the heart-shaped island — heart island direct — is one of the most popular helicopter rides in Fiji.
It's a great opportunity to admire the breathtaking views of Fiji from the top. Aside from that, you can choose for rides where you can see the famous Sleeping Giant or the beautiful Mamanuca Islands, and more. Indulge in the ultimate Fijian adventure by exploring the beautiful Monuriki island an deserted island which featured as an anonymous island in the 2000 Robert Zemeckis film Cast Away starring Tom Hanks. 
The price of each scenic flight differs from the options you choose (ranging from FJD 495 to FJD 1010). The tour requires a minimum of two people to book. Now with the larger AS355 in their fleet, a maximum of five passengers can fly. Heli-Tours Fiji also provide personalized transfers to any resort in Fiji, aerial filming, adventurous activities and more. 
Island Hoppers Fiji
Island hoppers have been operating in Fiji for more than 45 years, knowing in and out about Fiji and its 330 islands. Indulge in a Tag Along Mystery Tour over the Mamanuca Islands in Fiji. Experience and explore beautiful scenery of the stunning paradise island, reefs and resorts. The tour offers various scenic flight options to suit your viewing needs and locations. The price of traveling with Island Hoppers varies depending on the number of passengers traveling with children, time and location of the site. 
Island Hoppers Fiji offers travellers express transfers from Nadi Airport or Denarau to the Mamanuca Island Resort, Coral Coast and beyond. They will pick you up from your international flight to their helipad which is 2 minutes away. Relax at their reception lounge with a cold drink before being flown to your resort. There are also day tour options where you can choose between the ideal island lunch package and your own private island for a day to relax and enjoy some precious private time with your loved ones. Island Hoppers also offer their adrenaline-seeking travellers the exhilaration of skydiving with their company Free Fall Fiji. The package varies from 10,000 to 14,000 feet and includes thrill seekers and ultimate rush Heli combos.
Pacific Island Air
Pacific Island Air is a privately-owned aviation company in Fiji that offers three modes of air transfers: Charter Airplanes, Seaplane and Helicopter services to the travellers to enjoy distinctly different travel experience by one operator. They are based at the Nadi Airport with the check-in desk at the domestic terminal and Denarau Marina. One of the great things about Pacific Island Air is that they offer a "mystery flight" around beautiful scenery of Viti Levu in which you do not know where exactly you are going until they tell you. Experience the "not knowing where at" traveling with Pacific Island Air to get to know more about Fiji. The tour also offers transfer flights to resorts and islands along with adventure activities. 
Elite Aviation 
Travel luxuriously in style to your desired destination with Elite Aviation's "skytour". The newly established business has become a leading scenic flight provider option for many because of their competitive price rates and unique travel techniques. Elite Aviation takes you through the beautiful island of Mamanuca to experience turquoise blue water and reefs. With Elites VIP transfer, you do not need to worry about the long and boring lines at the terminal. They also provide travellers with courtesy transfer by partnering with hotel operators to give their guests the opportunity to travel conveniently to the most attractive sites in Fiji.
Operating Hubs
Most of the flight operators depart from Denarau Island as it is the most popular place to board helicopter tours, taking passengers to their scenic flights around Viti Levu and Mamanuca. Some short flights are also offered to the travellers over Denarau Island. The Heli-Tours Fiji and Pacific Island Air provide helicopter flights over the Mamanuca Island as they are close to the Denarau Island. Therefore, if you want to travel to Mamanuca Islands, you should depart from Denarau Island. Otherwise, you can also board your helicopter directly from the Nadi Airport after checking out.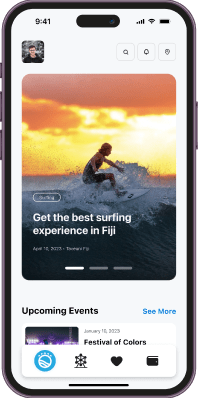 The only super app
you need in Fiji.