Halloween events to look out for this October in Fiji
In Fiji, Halloween isn't deeply rooted in tradition as it is in some countries. It doesn't hold significant cultural nor religious importance in Fijian tradition. Nevertheless, some resorts and restaurants have embraced the Halloween concept with enthusiasm. Here's a list of a few delightful Halloween events to look out for this October.
VOU Halloween Horror Maze
Photo Credit: VOU.
The spine-chilling Halloween Horror Maze at VOU HUB Fiji returns, promising a night of terrifying thrills on October 27th, from 7 PM to 9 PM. Visitors are encouraged to mark their calendars for this hair-raising experience. The maze, meticulously designed for maximum fear, will plunge attendees into a blood-curdling labyrinth, ensuring an unforgettable night of horror. Tickets are priced at $40 per person and include a complimentary return shuttle bus departing from RB Jetpoint Martintar at 6:30 PM. Guests are invited to lose themselves in the eerie atmosphere, making it a night of heart-pounding scares and spine-tingling excitement.
Kanu- Halloween Dining In The Dark
Photo Credit: Kanu Gastropub.
For a spooky night out, Suva beckons with the eerie allure of the Kanu DINING IN THE DARK dinner experience on October 31st. This exclusive event promises a unique culinary adventure featuring four exquisite courses priced at $65, inclusive of wine and cocktail pairing (non-alcoholic options available). Attendees will dine blindfolded, heightening their senses to feel, smell, and taste their way through Chef Seeto's tantalizing creations. Limited seats intensify the intrigue; bookings are essential for you to secure a spot at this extraordinary event. For more check the Kanu website.
Sofitel Fiji Resort & Spa- Too Cute To Spook Halloween Party
Photo Credit: Sofitel Fiji Resort and Spa.
Sofitel Niu Beach Club invites kids to a spine-chilling yet delightfully fun Kids Halloween Party! From 6:00 pm to 10:30 pm, young thrill-seekers can immerse themselves in the eerie ambiance for just FJ$50 per child, including a scrumptious dinner. An exciting lineup of spooky activities awaits, featuring beloved classics like Trick or Treat, Pinata, Treasure Hunt, and the iconic Thriller Dance. Little ones are wholeheartedly encouraged to wear their favorite costumes, adding to the overall eerie charm of the evening. With a night brimming with ghoulish games and ghostly excitement, this Halloween extravaganza at Sofitel Niu Beach Club promises to create unforgettable memories for all young attendees. Come and enjoy a spooktacular time!
Hilltop Halloween Horror Party
Photo Credit: TicketMax.
Experience a night of blood-curdling excitement at the Hilltop Halloween Horror Party in Suva, promising pulsating beats and spine-tingling surprises. Curated by DJ Drishant, the event features a thrilling music lineup spanning nostalgic R&B, Afrobeat, and EDM hits from the 2000s, ensuring non-stop dancing.
Guests are encouraged to flaunt their most creative Halloween costumes for a chance to win titles like "Best Halloween Male" and "Best Halloween Female." The costume contest guarantees inventive and spine-chilling ensembles. Spooktacular drink specials enhance the eerie atmosphere, adding to the unforgettable ambiance. Tickets, available at TicketMax, provide access to the ultimate Halloween experience in Suva. Don't miss this spooky extravaganza, where attendees can revel in a night of thrilling fun and creepy delights!
From the heart-pounding thrills of the VOU Halloween Horror Maze to the unique sensory experience of Kanu's Dining in the Dark, there are plenty of opportunities for both adults and children to embrace the spooky spirit. Whether you're a thrill-seeker, a food enthusiast, or a parent looking for a family-friendly event, Fiji offers a diverse range of Halloween experiences to enjoy this October. You can also check with your resorts for any upcoming Halloween events.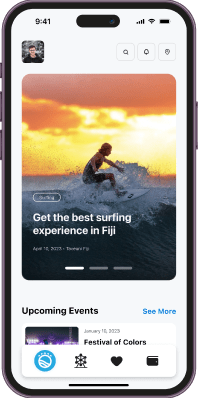 The only super app
you need in Fiji.