Fiji Culture Village: Immerse yourself in Fiji's culture
Ever wondered what Fiji's culture is like? Fiji today, like many other cultures, borders itself between culture and modernity. Cultural dances, rituals and customs are hardly ever performed outside of the culture unless for ceremonies and cultural occasions. But every now and again, hotels and tour groups hire dance groups or organise tours into some of Fiji's most traditional and respected villages. Providing you with a glimpse of what traditional dance and culture is truly like. But for Fiji Culture Village, you can experience all this in one place.
Photo Credit: Fiji Culture Village.
Fiji Culture Village
Fiji Culture Village, promptly describes itself as an arts and entertainment centre. Located just 3 kilometres outside of Nadi town, the village is in Nacaqaro, Navo in Nadi. The village is unlike any other, here you will witness firsthand what traditional Fijian culture is like, from Kava drinking, food preparation and its indulgence, to performing cultural dances that portray folklore and stories of early ancestors. Here are some things to expect from the Fiji Culture Village's day and night tours
Photo Credit: Fiji Culture Village.
Warrior welcome and a guided tour
Arriving at the village, Fijian warriors will welcome you with clubs and you will be taken on a guided tour of the village. The informative tour will take you on a walk of the village, where you will see traditional Fijian drum (Lali) being sounded, crafts being displayed and even young men or kids trying to light a fire through traditional means.
In all Fijian visits, the mixing and drinking of Kava is to be expected, as it is a traditional custom for Fijians. After your walk and prior to witnessing other things, a Kava ceremony will be performed, seating and welcoming everyone. When a cup is given to you, you must clap (cobo), say 'Bula' and enjoy this customary cup of welcome. Kava will be drunk for a while and you might feel some numbness in your mouth, which is to be expected. You will have some time to unwind and socialise until the Tanoa (large Kava bowl) that the Kava is mixed in, is empty.
Photo Credit: Fiji Culture Village.
Mekes (traditional dances)
Fijian traditional dances are known as 'Meke's' and are different from modern dances. Meke's are performed within certain historical contexts, often telling a story of how Fiji's ancestors came to be or how a vei-wekani (relationship) between two clans or tribes were formed. For instance, if you see two dancers performing as if they are attempting to hit each other with their wau's (war clubs), then it depicts conflict between two ancestral gods (vu's) or significant parties. Other instances note that the women's dance is usually controlled and peaceful, showcasing a performance of elegance and femininity, while the men's performances are often agile, virile and loud. Meke's are held after dinner for night tours and after Kava drinking for the day group.
Food
You will have an array of food to choose from. For the night tour, you will enjoy a hearty Lovo meal that will be splendidly buffeted on the table. Lovo, is prehistoric and is one of Fiji's renowned delicacies that involves an earth oven. Its preparation is largely considered to be the collective work of men. For night tours, you will notice that after your guided walk, there is an itinerary for unearthing the Lovo, which is not an easy task and is one way to have an interactive touch with Fiji's culture. For day tours, you will enjoy an organic garden walk before enjoying a light lunch.
We highly recommend visiting Fiji Culture Village, for an authentic Fijian experience. Vouchers are available on our super app.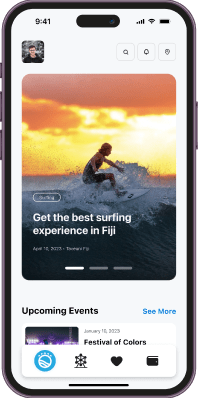 The only super app
you need in Fiji.