Fiji and its love for rugby
What comes to your mind when we say Fiji? Some obvious things include white sandy beaches, good weather, delicious food and a perfect getaway with loved ones. Aside from all the good vibes and friendly locals, rugby is another integral part of Fiji.
To the world, rugby is just a sport, but to Fijians, rugby is a lifestyle.
Fiji is known as a country that has much love for outdoor entertainment, and it's no secret that rugby brings the best out of the Fijians. Fiji is one of the few countries where rugby is the principal sport.
History of rugby in Fiji
In 1884, rugby was born in Fiji. It was first played in Ba, Viti Levu, between European and Fijian soldiers of the Native Constabulary. Most of the players back then were expatriates, and the media helped build the sport's popularity. Thereafter, club competition began in 1904.
What is rugby sevens?
Rugby sevens is an abbreviated form of rugby, featuring two teams of seven players. The rugby sevens is much more popular than other rugby leagues. Played on a full-size rugby pitch, the opposing teams compete to score points via tries, conversions, penalties and drop goals. The winning team is the one with the most points at the end of the match.
The Fiji national rugby sevens team is one of the most popular and successful rugby sevens teams in the world.
Who is the most popular rugby player in Fiji?
The King of rugby sevens is none other than Waisale Serevi. With his outstanding performances, skills and techniques, he was labelled as the "wizard" by commentators. Waisale Serevi is respected as the God of sevens rugby in Fiji. He is the man who has proven to be the best player on the field. Till date, youths look up to him and dream of being just like their idol.
Why is rugby so important for Fijians?
Rugby enables nation building, allowing Fiji to maintain regional and local social boundaries. Above all, rugby sevens has propelled Fiji's reputation internationally.
Every child and adult in Fiji knows how to play rugby. Even if they are not on the national team, Fijians play rugby with their friends on the school fields, beaches or any small compounds. It's a sight that you cannot miss while you're in Fiji.
The love for rugby in Fiji is deep. So much so that even if there isn't any ball available, they will still use plastic bottles as a replacement. That is how integral rugby is to the everyday life of Fijians.
If you're ever in Fiji during the time of a tournament, you'll get to experience all the hype and excitement. Fijians will have their eyes glued to the television, shouting and supporting the national team. For 14 minutes, the young and old unite, forget about all differences and simply enjoy the game. You will hear a lot of clapping alongside some loud "pass" "toso viti toso".
Historic moments for Fiji rugby
The nation was beaming with pride when the national team won the first ever Olympics Gold Medal in 2016. The entire nation was in a celebratory mood, from street dances in Suva to Kaila. Many Fijians also shed tears of joy watching their country make a mark on the global stage. Fijians gathered in large numbers to celebrate the team and coach Ben Ryan.
The victory was especially sweet and memorable as it happened right after cyclone Winston hit the country.
Fiji men's rugby sevens has since won gold medals twice; 2016 at Rio Olympics and 2021 at Tokyo Olympics, and the women's team won the first ever bronze medal in the 2021 Tokyo Olympics.
As much as Fijians love rugby, they also enjoy water sports such as swimming, surfing and traditional canoe racing. Below are some other sports played in Fiji.
Sports in Fiji
Football gained popularity in Fiji in 1924, and since then, the local teams have been playing tremendously well, both locally and internationally. Football is commonly played by school students and teens, especially among Indo-Fijian boys. Every Fiji Indian family has a child who is passionate about soccer, and plays soccer with either the football association or local teams.
Fijians are very proud of the golden boy from Labasa, Roy Krishna. Born in a Fijian village to a south-asian family, Krishna achieved his dreams of playing in the international stage. Krishna serves as an inspiration to the young Fijians who aspire to be like him.
As for the ladies, many young Fijian girls are into netball/basketball. Being surrounded by hundreds of islands, it's no surprise that volleyball is another popular sport in the South Pacific nation. You can see the locals having a fun volleyball time at the beaches. And last but not least, golf is also popular in Fiji ever since golfer Vijay Singh, nicknamed "The Big Fijian", one of the few in history to topple Tiger Woods in his prime. Fiji is one of the most popular golfing destinations in the world.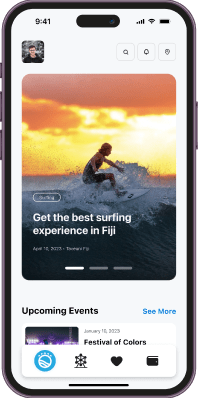 The only super app
you need in Fiji.