Songs of the Sea by Joanna Weinberg
Immerse Yourself in the Joy of Music: Join Joanna Weinberg for a Remarkable Singing Journey in Fiji
Prepare to embark on an extraordinary musical adventure as the renowned writer and choir director, Joanna Weinberg, brings her exceptional talents to Fiji. With a week filled with captivating songs and transformative experiences, this journey promises to be an unforgettable opportunity for all music enthusiasts.
Joanna Weinberg is known for her joyful dynamism and her ability to bring people together through the power of music. In this marvelous week-long event, she will be leading a team of singers and participants to create a harmonious and uplifting choral experience. The focus will be on learning and singing gracefully as one, celebrating the beauty of music and the joy it brings to our hearts.
If you have a passion for singing and sharing stories through song, this is an opportunity you won't want to miss. Join Joanna Weinberg and her team in Fiji to grow, learn, and connect with fellow music lovers in a supportive and inspiring environment.
The event package includes everything you need to fully immerse yourself in this musical journey. Accommodation will be provided, ensuring your comfort and relaxation throughout the week. All workshop fees are covered, granting you access to Joanna Weinberg's expertise and guidance as she leads you on a transformative musical exploration. Dining and meals will be taken care of, allowing you to indulge in delicious cuisine and savor the flavors of Fiji. Additionally, lectures and excursions will be organized, providing enriching experiences and opportunities to further deepen your musical knowledge and appreciation. Transfers from Savusavu Airport will be arranged, ensuring a smooth and hassle-free arrival to the event.
This is your chance to be a part of an extraordinary week of music, camaraderie, and personal growth. Join Joanna Weinberg and her team in Fiji, and be prepared to be moved by the power of song. Discover the magic of harmonizing voices, sharing stories, and creating lasting memories in a truly beautiful and inspiring setting.
Don't miss out on this incredible opportunity to learn from the talented Joanna Weinberg and embrace the transformative power of music. Book your place now and get ready for a week of heartfelt melodies, shared experiences, and joyful connections that will stay with you long after the journey concludes.
The event package include:
-Accommodation
-All Workshop Fees
-Dining & Meals
-Lectures & Excursions
-Transfers from Savusavu Airport
For more information visit: https://paradisecourses.com/tour-item/singing-joanna-weinberg
Date: 20th -27th June 2023
Venue: Daku Resort, Savusavu, Vanua Levu Island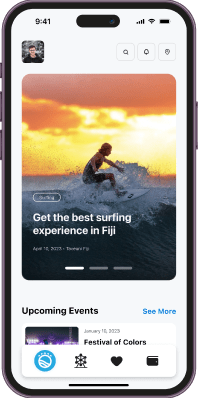 The only super app
you need in Fiji.