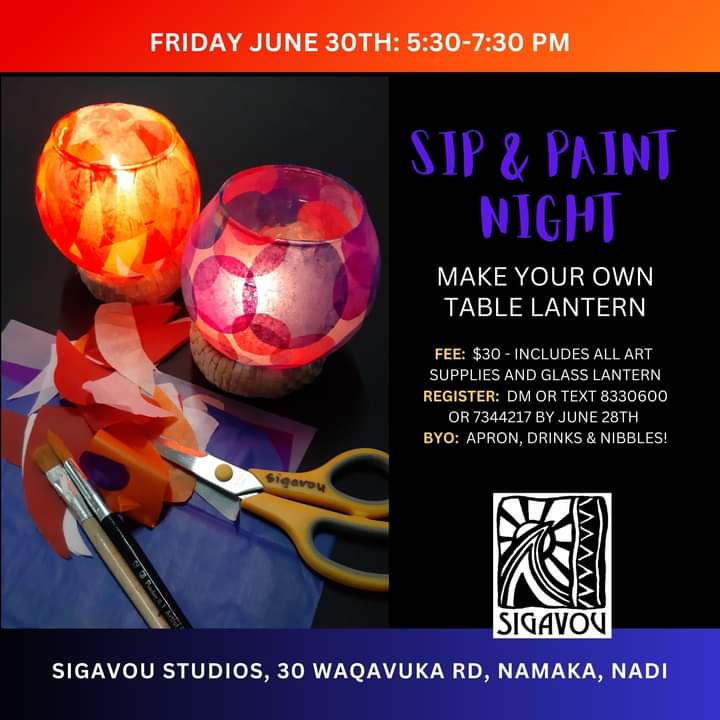 The Sigavou Studios are back with yet another exciting event that promises an evening filled with learning, relaxation, and enjoyment. Get ready for a delightful Sip & Paint Night! Sigavou Studio has been at the forefront of honoring Fiji's beautiful barkcloth traditions, merging ancient symbols of cultural identity with cutting-edge visual arts. Their creations add a vibrant splash of color that perfectly complements modern interior designs.
This month's Sip & Paint Night is particularly special as Fiji embraces the winter solstice, with its longest and darkest nights of the year. Participants will have the opportunity to create porch lanterns or table centerpieces, adding a warm and glowing touch to their chilly evenings.
Join this innovative art workshop to learn new techniques and create aesthetic artworks that you can proudly display and use during the winter season. Don't forget to bring your own apron, drinks, and nibbles to make the evening even more enjoyable. Sip on your favorite beverage, savor delicious snacks, and let your creativity flow as you paint and craft your very own lantern or centerpiece.
The Sip & Paint Night is a fantastic opportunity to unwind, socialize, and indulge in a creative experience. Whether you are a seasoned artist or simply looking for a fun and relaxing activity, this event is open to all skill levels. With the guidance of talented instructors from Sigavou Studio, you'll receive valuable tips and guidance to create a beautiful piece of art.
By participating in this event, you not only have the chance to engage in a creative endeavor but also support and celebrate the rich cultural heritage of Fiji. Sigavou Studio's dedication to merging tradition with modern aesthetics is a testament to the artistic talent and innovation found in Fiji.
So mark your calendars and make sure to attend the Sip & Paint Night hosted by Sigavou Studio. Bring your artistic spirit, enthusiasm, and a desire to create something truly unique. Get ready for an unforgettable evening of art, relaxation, and good company. Don't miss this opportunity to brighten up your winter nights with your own handcrafted lantern or centerpiece. Let the creativity flow and enjoy an experience that will leave you with beautiful memories and a stunning piece of artwork to cherish.
Date: 30th June, 2023
Time: 5:30pm – 7:30pm
Venue: Sigavou Studio 30 Waqavuka road, Namaka, Nadi
Registration via text to 8330600 or 7344217. Registration fee is FJD30, includes all art supplies and glass lanterns.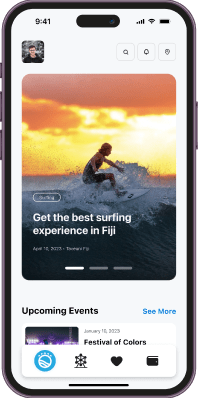 The only super app
you need in Fiji.