A Night of Temporary Dance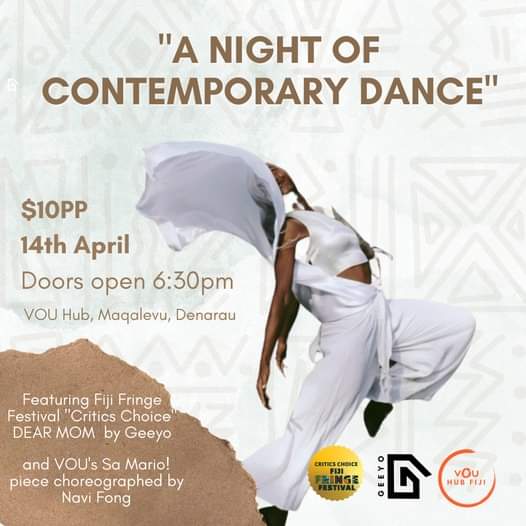 Hey there, all you theater enthusiasts! Get ready for an exciting night of thought-provoking performances at the VOU Hub in Nadi. They are bringing you not one but TWO amazing productions that are guaranteed to leave you mesmerized and in awe.
First up, we have "Dear Mom," a beautiful tribute dance piece choreographed by the talented Giovanna Varea. The performance is a touching tribute to her late mother, who was her biggest supporter and inspiration in pursuing her dreams of becoming a dancer. This emotional and heartfelt piece is sure to tug at your heartstrings and leave you feeling inspired to cherish your loved ones and chase after your dreams.
And if that wasn't enough, "Dear Mom" has already taken the Fiji Fringe Festival by storm, winning the Critics Choice Award in the capital of Suva. You won't want to miss the chance to witness this award-winning piece firsthand and experience the magic for yourself.
But wait, there's more! The VOU Hub in Nadi is also proud to present "Sa Mario!" – a thrilling production choreographed by the talented Navi Fong.
Sa Mario is an exciting and unique performance that blends satire, traditional Fijian wrestling, and a popular children's hand-game. But beyond its dynamic and entertaining elements, the production is also a powerful commentary on the socio-political landscape of Fiji.
As young Fijians, many of us have grown up in a society where political instability and coups have been a regular part of our lives. We often feel like we are living in a constant state of uncertainty, never quite knowing what the future holds. Sa Mario speaks directly to this feeling, exploring the theme of uncertainty and the struggle to find stability in a world that can seem chaotic and unpredictable.
Choreographed by VOU Dance Fiji Artistic Director, Navi Fong, the production is a masterful blend of contemporary and traditional dance styles. The performers' movements are both graceful and athletic, weaving together elements of traditional Fijian wrestling and modern dance.
As the dancers move across the stage, the audience is drawn into a world of movement, sound, and emotion, where the struggles of life in Fiji are brought vividly to life. It's a powerful and thought-provoking performance that will leave you with a newfound appreciation for the challenges faced by young Fijians in navigating a society in flux.
So, if you're looking for an experience that is both entertaining and socially relevant, don't miss out on Sa Mario. It's a performance that will leave you energized, inspired, and deeply moved.
So, mark your calendars and get ready for a night of entertainment that is not to be missed. Join us at the VOU Hub in Nadi for an unforgettable evening of theater and dance that will leave you feeling inspired, moved, and completely in awe!
Date: 14th April 2023
Time: 6.30pm
Venue: Vou Hub, Maqalevu Denarau
Tickets: FJD10
Kindly contact 6700693 / 9434216 for more information.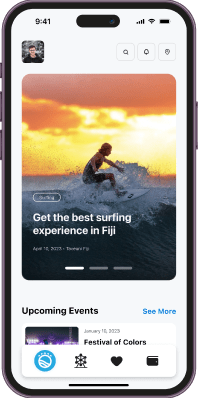 The only super app
you need in Fiji.