Do I need a visa to visit Fiji?
Whether or not you require a visa to enter Fiji depends on whether or not your country of origin is a visa-exempt country.
Here is a list of the visa-exempted countries according to the Fijian Immigration Department.
Antigua & Barbuda
Argentina
Australia
Austria
The Bahamas
Bangladesh
Barbados
Belgium
Belize
Bermuda
Botswana
Brazil
Brunei Darussalam
Bulgaria
Canada
Chile
China
Colombia
Cook Islands [NZ passport holder]
Croatia
Cyprus
Cuba
Czech Republic
Denmark
Commonwealth Dominica
Estonia
The federal Republic of Germany
The federated States of Micronesia
Finland
France
The Gambia
Georgia
Ghana
Greece
Grenada
Guyana
Holy See (Vatican)
Hong Kong [SAR]
Hungary
Iceland
India
Indonesia
Israel
Italy
Jamaica
Japan
Kenya
Kiribati
Latvia
Lesotho
Liechtenstein
Lithuania
Luxemburg
Macau
Malawi
Malaysia
Maldives
Malta
Mauritius
Mexico
Moldova
Monaco
Nauru
The Netherlands
New Zealand
Nigeria
Norway
Palau
Papua New Guinea
Paraguay
Peru
The Philippines
Poland
Portugal
Republic of Ireland
Republic of the Marshall Islands
Romania
Russia
Samoa
Serbia
Slovak Republic
St Kitts & Nevis
St Lucia
St Vincent & The Grenadines
Seychelles
Sierra Leone
Singapore
Slovenia
Solomon Islands
South Africa
South Korea
Spain
Swaziland
Sweden
Switzerland
Taiwan
Tanzania
Thailand
Tonga
Trinidad & Tobago
Tunisia
Turkey
Tuvalu
Uganda
United Arab Emirates
Ukraine
United Kingdom of Great Britain and Northern Ireland
United States of America
Uruguay
Vanuatu
Venezuela
Zambia
Zimbabwe
If your country of origin is on the list, you do NOT require a visa. If your country of origin is not on the list, you require a visa.
A visa is a pre-entry authority issued to citizens of a non-visa-exempted country so that they might travel to Fiji's borders. However, a visa does not grant the passport-holder automatic entry rights into Fiji.
All visa applications are considered on a case by case basis.
However, travellers who do not need a visa still require the relevant permits, depending on the nature of their travel.
Types of visas to Fiji
There are two types of visas:
Single Entry Visa (SEV). It is valid for 3 months and can be used for only a single trip to Fiji.
Multiple Entry Visa (MEV). The visa is valid for multiple entries into Fiji over a period of 12 months from the date of issue. The duration of each stay should not exceed 4 months.
Checklist for visa application
Prepare the following documents when applying for a visa to Fiji.
For holiday purpose:
Visitors Visa Application form (click HERE to access form)
Certified copy of your passport (biodata page)
2 recent passport size photos
Confirmation of pre-booked hotel (if you are staying at a hotel)
Local sponsor letter (if you are staying with family or friends)
A copy of your travel itinerary/ticket
Proof of funds to sustain you during your duration of stay (recent bank statement/visa card)
Copy of your sponsor's valid ID/passport/permit
Proof of your approved visa and onward ticket if you're travelling to another country that requires a visa
A consent letter from your spouse if you're travelling alone
A consent letter from your parents if you're below 18 years old and travelling alone
An approved leave letter
For transiting purposes:
Visitors Visa Application form
Proof of your approved visa/permit to the next destination
Proof of your onward ticket to the next destination and another outward ticket if you're travelling out of that destination
A certified copy of your passport
2 passport size photos
For business/training/workshop purposes:
Visitors Visa Application form
2 certified photos
Certified copy of your passport
Sponsor letter if a local company/organisation is sponsoring you
A copy of your travel itinerary/ticket
For crew/seaman:
Visitors Visa Application form
Letter from the organisation
Certified copy of your passport (biodata page)
Certified copy of your itinerary/ticket if joining vessel in another destination
Crew list
Where to apply for a visa to Fiji
Visa applications can be submitted at any Fijian Immigration Department office located in Suva, Nadi, Lautoka, Savusavu, Levuka, Labasa, and Rotuma. You can also apply at the nearest Fiji High Commission and Embassy offices abroad.
Here is a list of Diplomatic Missions of Fiji from around the world for your reference:
Embassy in Washington D.C., United States
Embassy in Beijing, China
Consulate-General Shanghai, China
High Commission in New Delhi, India
Embassy in Jakarta, Indonesia
Embassy in Tokyo, Japan
High Commission in Kuala Lumpur, Malaysia
Embassy in Seoul, South Korea
Embassy in Abu Dhabi, United Arab Emirates
Embassy in Brussels, Belgium
High Commission in London, United Kingdom
High Commission in Canberra, Australia
Consulate-General in Sydney, Australia
High Commission in Wellington, New Zealand
High Commission in Port Moresby, Papua New Guinea
Similarly, visa applications are lodged through faxing or by posting to the Visa Processing Officer.
Source: visaguide.world
Alternatively, click here to submit an online application.
Fiji visa fees
You will be required to pay a fee when applying for a visa for Fiji. The figure is as follows:
Single entry fees — $ 91.00
Multiple entry fees — $ 180.00
Fiji visa processing time
Expect the visa application to take 3 working days, starting from the date of receipt of your application documents by the visa officer.
There might be a delay if the application documents are incomplete, therefore it would be prudent to ensure that you include all the necessary documents to ensure that the process is as smooth as possible.
Notification of visa approval for Fiji
The visa's are endorsed on the passport. If the passport is not submitted, a visa approval letter is sent to the successful applicant, stating the approval of the visa, validity of the visa, and duration of the stay in Fiji.
If the applicant is unsuccessful in the application, they would be notified in writing, including the reasons for refusal.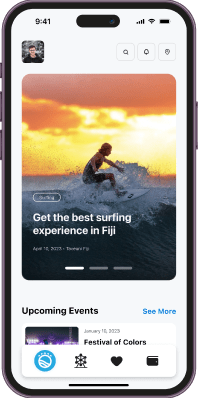 The only super app
you need in Fiji.