Discover the most popular bars in Fiji
We're all aware that the capital city is full of unexpected delights, and some truly exciting moments can unfold over a refreshing drink. When you find yourself in the heart of the capital, you have the chance to revel in a Fijian-style party experience. While the city is renowned for its business and economic prowess, it conceals a delightful secret – an abundance of fantastic venues where you can simply unwind, savor the night, and enjoy great company and delectable food.
So, when you're in the capital, make sure to explore these fantastic bars where you can relax and engage in enjoyable, heartfelt conversations with your loved ones while sipping on ice-cold beer and cocktails. Trust us, the nightlife in the capital city is truly incomparable; you have to be here to witness it firsthand. Who knows, you might even make new friends who can introduce you to more hidden gems on the island.
The DogFather Bar

Photo Credit: The DogFather Bar
Nestled within Damodar City is a comfortable yet perfect spot to engage in both meaningful and casual conversations while savoring refreshing beer and signature cocktails. The DogFather Bar, a sports bar, offers a mouthwatering selection of bar food that's bound to leave you hooked. It's an undeniable fact that when you're in the capital city, you deserve a dose of relaxation and enjoyment on your Friday nights out. There's nothing quite like relishing a piping-hot pizza alongside your preferred beverage. You can be confident that this venue will win your heart.
Opium Bar Fiji
Photo Credit: Opium Bar Fiji
Immerse yourself in the liveliest atmosphere and dance the night away. Feel the rhythm and groove to the tunes of some exceptional live bands. Situated a stone's throw away from Pacific House on MacArthur Street in the capital, this spot promises a musical experience that's bound to get you moving. The beats here are electrifying, so simply go with the flow and relish every moment. If you happen to indulge a bit and find yourself in high spirits, don't hesitate to join the locals on the dance floor – no judgments here. Now, doesn't that sound like an ideal plan for your Friday night? Just remember to enjoy a hearty meal to fuel up before savoring those cold beers.

Downunder Pub
Situated across the street from Opium Bar, you'll discover another lively pub that promises a night of continuous dancing and entertainment. The Downunder Pub is renowned for its fantastic music and engaging entertainment. Get ready to groove to the beats and engage in fun games as you soak up the vibrant atmosphere.

Photo Credit: Downunder Pub
Phoenix Bar and Restaurant
If you seek a tranquil and intimate setting for relaxation while also indulging in some elevated experiences, then Phoenix Bar and Restaurant is the perfect destination. Delight in the mesmerizing sunset views while sipping on a refreshing beer or Martini. The bar boasts an impressive selection of spirits that pair excellently with your choice of chaser or the delectable dishes served in the restaurant. Treat yourself to a moment of solitude at the bar, where you can unwind with exceptional food and beverages.
Photo Credit: Phoenix Bar and Restaurant
Steamship Bar
The Grand Pacific Hotel's in-house bar stands as Suva's renowned landmark, offering you the perfect setting to relish the night while savoring some exquisite blends. The Steamship Bar provides not only a space for personal relaxation but also a chance to unwind while gazing upon the mesmerizing view of Suva Harbour. GPH ensures you can enjoy a fantastic evening without the need to navigate through bustling crowds.
Photo Credit: Grand Pacific Hotel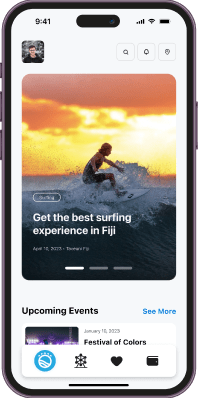 The only super app
you need in Fiji.