Delve deeper into Fijian culture with local experiences
Participating in a kava ceremony — a traditional custom where you and a Fijian village leader sit in a circle around a big wooden tanoa bowl — is considered the ultimate cultural activity in Fiji. But not many tourists know that there are other exciting ways to get to know the South Pacific country. In this list, we narrowed down four of the must-try customs you could do to dive deeper into Fiji's history and culture:
1. Lifestyle: Navala Village
Fancy visiting a 200-year-old settlement and getting awe-inspired by its thatched-roof abodes? Navala Village keeps traditional Fijian living alive, as it doesn't only keep the time-honoured architectural design. Still, it's also home to more than a thousand local inhabitants who welcome tourists warmly into their community. Don't forget to bring your camera to immortalise the surroundings and take snapshots of you interacting with locals.
2. Spiritual: Sri Siva Subramaniya Temple
Not all practice Hinduism but all those who have seen Sri Siva Subramaniya Temple up close swear that the sacred grounds exude a divine calmness. The temple is also a visual feast, boasting traditional orthodox Dravidian architecture in eye-popping hues. What's more, the Hindu deities carved in wood are as intricate as the stellar ceiling frescoes.
3. Gastronomic: The Lovo Feast
For those who don't know what the traditional Fijian meal lovo is made of: it consists of chicken, fish, pork, taro, yams, and cassava. Then, they're wrapped in banana leaves and thrown onto the hot stones from largest to smallest in an underground oven. The lovo is next covered with more banana leaves, coconut stalks, and burlap sacks, where they're cooked for another two hours. Needless to say, a lot of effort and time are put into this meal, and it's worth devouring over and over again.
4. Rituals: Kava Ceremony
One of the most important and popular cultural rituals in Fiji is the kava drinking ceremony. Sometimes referred to as Yakoqa, it's a feature of pretty much every village you visit and resort you stay at.
The ritual involves sitting in a circle around a large bowl (kava tanoa) which is placed in front of the leader. Once prepared, the drink is served to each member of the group one at a time, either at high tide (full cup) or low tide (half cup). However, remember to dress modestly if you're visiting a traditional Fijian village. It's recommended that you bring a kava root from any of the local markets to offer to the village chief as a form of respect.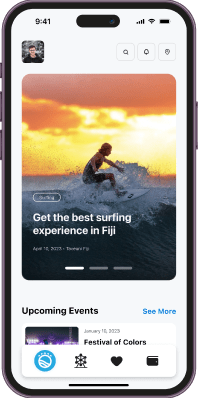 The only super app
you need in Fiji.