Can foreigners get married in Fiji?
Whether you're looking for an intimate affair, elopement or extravagant celebration, Fiji has the perfect venue, ambience and landscapes for the wedding of your dreams. Renowned for romance, Fiji is a hotspot for honeymooners and wedding celebrations.
Can foreigners get married in Fiji?
Yes. Getting married in Fiji is easy, and many of the island resorts will complete most of the paperwork for you. Most wedding packages include everything from the venue to bouquet and wedding cake. Overseas visitors intending to get married in Fiji are required by law to obtain and sign a marriage license from the nearest marriage registry prior to the marriage ceremony with an average of 36 hours in advance. Special arrangements can also be organised.
Documents required for getting married in Fiji
The couple must provide the following personal documents to the Registrar for verification purposes at least two weeks before the wedding: 
Signed and stamped copy of Special Application License Form (Signed by the couple and certified using a stamp by a JP/Registered Lawyer/Registered Doctor or Pharmacist). This form will be forwarded to you by your wedding planner) 
Original birth certificates for the bride and groom 
A recent passport-sized photo of both parties 
A valid passport for both parties
Divorce papers if applicable
If the previous spouse of either party is deceased, a death certificate
Certificate of Single Status or Certificate of No Legal Impediment from the relevant authorities (usually the Registrar of Births, Deaths, and Marriages) in your country of current residence. The search of marriage has to be from 18 years of age. Please lodge this at your BDM office 60 days (2 months) prior to the wedding date. This certificate must be produced if:

Both parties are non-residents marrying in Fiji
A non-resident marrying a Fiji resident
Former citizens of Fiji who have been resident abroad for two or more years 

A statutory declaration is required for former citizens of Fiji and current citizens of Fiji on work-visa living abroad for less than two years
Marriage applicants from Japan must produce the Koseki-Shouhon to certify their personal details 
Written parental consent is required if either party is under 21 years of age 
Two witnesses who are at least 21 years of age must be present
Acquiring a Marriage License
Marriage licenses must be obtained from a local marriage registry or district office in Fiji prior to the ceremony.
All registered marriage certificates will be forwarded to the Foreign Affairs office to obtain an Apostille seal to authenticate that the marriage is legal and recognised in foreign countries.
Fees covering the license application and marriage certificate will be incurred. This may be included in your selected wedding package but should be confirmed upon enquiry.
Please note that couples must be at least 18 years old to legally marry in Fiji.
Marriage Celebrants
By law, only local Fijian celebrants may officiate a marriage. If couples wish to bring a celebrant from overseas, arrangements can be made for a joint ceremony in which the foreign celebrant arranges the vows and blessings while the local celebrant solemnizes the marriage and signs the marriage certificate.
Resort wedding venues in Fiji
Likuliku Lagoon Resort
Lomani Island Resort Fiji
Malolo Island Fiji
Mana Island Fiji
Musket Cove
Naviti Resort Fiji
Outrigger Fiji Beach Resort
Plantation Island Resort
Sheraton Fiji Resort, Sheraton Denarau Villas and The Westin Denarau Island Resort & Spa
Sofitel Fiji Resort & Spa
Tokoriki Island Resort Fiji
Treasure Island Resort
The Warwick Fiji
How to get married in Fiji?
THE APPLICATION
SPECIAL LICENSE
Application form for special license can be obtained from the Head Office of the Registrar of Births, Deaths and Marriages in Suva, the Divisional Registrar Offices either in Lautoka or Labasa or any offices of the district officer. This license is valid only for 28 days from the date of issue [within which the marriage may be performed] as stated in the license and the marriage officer should satisfy himself/herself that the license is still in force.
MARRIAGE OFFICERS/CELEBRANTS
Marriages in Fiji are solemnized by Government Offices or Ministers of Religions of the Christian faith or other suitably qualified persons professing any recognized religion, must first be registered as a marriage officer. The names of all marriage officers are published in the Fiji Republic Gazette upon registration and then annually at the beginning of each year.
The party who intends to get married should satisfy themselves that the marriage officer or celebrant assigned to solemnize their marriage has already been registered. Should a party wish to be married in a garden, hotel, etc. arrangement should be made beforehand with a marriage celebrant who will officiate the marriage. Traveling expenses for the celebrant should be met by the party concerned.
WITNESSES AND SIGNING OF THE MARRIAGE CERTIFICATE
Every marriage shall be performed in the presence of at least two witnesses who can sign their names and are 21 years of age or over
The particulars filled in the certificate of marriage in triplicate must be typed or printed and must be the same as the particulars in the special license
Three copies of the certificate of marriage must be signed by the parties, the witnesses and the marriage officer
The duplicate copy of the certificate of marriage must be given to one of the parties, the original must be sent within seven days to the district registrar or Registrar General [in Suva] for recording purposes.
ADDITIONAL RELIGIOUS CEREMONY
Where the Registrar General or the district registrar has already performed a marriage, a marriage officer may, if the parties desire upon production of the certificate of marriage perform a further religious ceremony of marriage.
No further certificate of marriage shall be completed by the marriage officer in the case of an additional religious marriage ceremony.
VALIDITY OF MARRIAGES SOLEMNIZED IN FIJI FOR CITIZENS IN OTHER COUNTRIES
All member countries that have adopted the Convention abolishing the requirement of legalization for Foreign Public Documents. This convention, opened for signature at The Hague on 5th October 1961 applies to public documents which have been executed in one country and which are required to be produced in the territory of another country.
The convention has allowed and included documents such as Marriages, Births and Deaths Certificates are exempted from legislation of documents and the only formality required is the affixing of a certificate by a competent authority of the country from which the documents issued. This certificate or stamp is titled "Apostille" [convention de La Haye du 5 October 1961]. The Ministry of Foreign Affairs is equipped with the designated authority to certify public documents under the Convention. Please get your marriage certificate authenticated by the ministry of foreign affairs and External Trade before departure from Fiji.
MARRIAGE FEES
The current marriage fees [VAT inclusive] are tabled below in Fijian Currency. Payment should be made in cash, postal or money order or Bank Cheque:
Application for Special License F$19.80
Marriage performed within the Registry [including marriage certificate] F$22.00
Marriage performed by the RG or District Registrar
Outside office after normal office hours F$8.
OFFICE HOURS
Registrar General's Office [Suva] 8.30 to 3.30 pm Monday to Friday– Tel No. 315280
Divisional Registrar Lautoka 9.00 to 3.00 PM Monday to Friday – Tel No 665132
Divisional Registrar Labasa 9.00 to 3.00 PM Monday to Friday – Tel No 812477
District Officer – [Refer to the Ministry of Regional Development and Rural Housing]
PUBLIC NOTICE
Acting in accordance with Legal Notice No 25 and 26 that appeared in the Fiji Islands Government Gazette Supplement No 13 of 2A/3/2000 in relation to Births, Deaths and Marriage (Fees) (Amendments) Regulation 2000. The following fees will come into force on 1st July, 2000:
Activity Fees F$ (Value Added Tax Included)
1. Search in an Index $1.10
2. Inspection of an entry (including necessary search) $1.10
3. Extract of a birth register entry (including necessary search) $1.10
4. Certified copy of a birth or death entry (including necessary search) $2.20
5. Certified copy of a marriage entry
NOTE : Certified copies may either be typewritten or photostat copies $5.50
6. Late registration of birth $8.80
7. Entry of change of name $2.20
8. Entry of addition of name or names $2.20
9. Entry of particulars of father under section 16(2) $4.40
10. Correction of error in register other than a clerical error $2.20
NOTICE
Acting in accordance with Legal Notice No 26 that appeared in the Fiji Islands Government Gazette Supplement No 13 of 24/3/2000 in relation to Marriages (Amendment) Regulations 2000. The following fees will come into force on 1st July, 2000:
Activity Fees F$ (VAT included)
1. Notice of Marriage and Declaration $5.50 
2. Application for Special License $19.80
3. Registrar General or district registrar solemnizing marriage (including Certificate of Marriage) $22.00
4. Registrar General or district registrar solemnizing marriage outside office after normal office hours (including certificates of marriage) $30.00
WEDDINGS AND HONEYMOONS
REGISTRY OFFICES IN FIJI
Lautoka Crown Law Office The Registrar General's Office
1st Floor Rogorogoivuda House Suvavou House Ground Floor, Tavewa Road Suva
Phone: [679] 600968 Tel: [679] 315280
Fax: [679] 304917
District Office
Korivolu Avenue, Nadi
Tel: [679] 700101
Hours: Monday – Thursday 8.00 am – 4.30 PM, Friday 8.00 am – 4.00 PM
Closed for Lunch 1.00 PM– 2.00 PM
You will require:
Original Birth Certificate
Passports
Decree Absolute of dissolution of previous marriage (divorce papers) if previously married
Consent of father – if under 21 years (Consulate General of Fiji of Fiji Embassy official must be a witness)
Couples must present themselves together to apply for the license. License Validity
The special license is effective immediately after the application is received (within one working day) and processed by the registry. It is valid for 21 days from the date of issue.
The fee is FJ$20.00. After the marriage ceremony it is advisable to apply for a proper/typed marriage certificate. This can be obtained from the local registry office at a fee of FJ$3.00.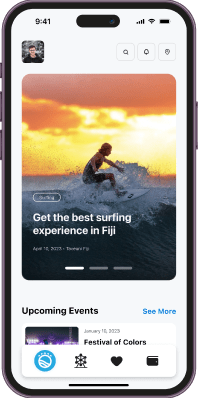 The only super app
you need in Fiji.