Bus rides: an economical way of travelling and sightseeing around Fiji
Buses aren't exactly on one's agenda when travelling unless you're a nomadic, free-spirited traveller. For those opting for spontaneous but most importantly, economical means of travelling, this article is for you! Here, we will share all you need to know about the cheapest way of travelling in Fiji, by riding a bus to your preferred destination.
Scenic bus ride in the interior of the Ba province.
Ride a bus to and from your destination
Need sightseeing without the hassle of overpriced tour transfers and packages? Want sporadic travels? Maybe a bus ride from Denarau to Nadi is what you need. Bus fares cost around 1-2 FJD (0.69-1.38 AUD) one way from Nadi town to Denarau or 9 FJD from Nadi town to Sigatoka town. Bus services operate in between all Viti Levu cities and towns, and operate on an hourly or half an hour basis until 5 or 6pm. Most bus companies don't operate at night and very rarely on Sundays, as Fiji is still a Christian dominant country.
View of Lutu, Wainimala (Naitasiri) from up the road.
Bus rides into the interior of Viti Levu.
Why take a bus ride into the interior highlands of Viti Levu? Because it is literally the cheapest and most scenic way of sightseeing into the highlands. How, so? Well, most buses that travel into the outback of Viti Levu are open buses that service the remote and interior villages of Naitasiri, Ba, Ra, Namosi and Navosa province. Most of these villages receive bus services for two or three times a day, so that means you can either catch the morning bus or the mid-day bus, the last bus usually stops for a layover at their destination, before returning the next morning.
Bus fares
We cannot really speak for the experience of all bus routes but we have taken the bus for Naitasiri, the Suva-Naqelewai route (there are a few other Naitasiri routes available as well), and the bus from Ba town to the village of Navala. If you want the beautiful scenery of Naitasiri then this is the bus route for you, you will traverse villages, valleys and mountain sides and take in all that Naitasiri has to offer. A fare for one way is about 12-13 FJD (8.24-8.93 AUD). Naqelewai, is the innermost remote village of the Naitasiri province
A bus ride up to Navala, Fiji's traditional Fijian village, is not as treacherous as people put it out to be. The village is located about 25 kilometres inland from Ba town and costs about 4 FJD (2.75 AUD) one way. With a leeward landscape, you have less dense forests blocking your view and more clear mountains with trees gathered together in valleys to take in. However, it should be noted that because you are on the drier side of Viti Levu, air can be a little humid and the road quite dusty at times. 
An additional note, these local buses have a standard charge, so any worry of tourist rates and any unnecessary charges can be set aside when taking this economical route.
View of Laselevu village, Naitasiri province.
Bus rides: the reality of economic travel
Taking buses can be overwhelming for new people because (one) it can become overly crowded at times as it is the preferred transport for locals. Most buses aren't in coach or air-conditioned having an open-windowed feature that allows unlimited fresh air to come in.  If you're travelling in such open buses, fumes from other vehicles and dust when travelling in the outback can be unpleasant. For that reason, it is preferable to have a pair of sunglasses to protect the eyes and a mask for your nose and mouth. A hat can also come in handy for protection against the cruel Fiji sun.
In truth, the roads can be unappealing for first-timers as turns will be uncomfortably narrow, having sharp turns in certain corners. Irish crossings are also the most common forms of bridge crossing for the remote parts of these provinces, which are prone to flooding during bad weather. Most bus companies don't operate in the night and a last bus for the day will be around 5-6pm.
Bus rides are only applicable to the larger islands of Viti Levu, Vanua Levu and Taveuni, as smaller islands hardly have roads and the ones that do, only have village carriers and private vehicles operating on it. The only exception to taxis aside from the mentioned above, is the island of Ovalau, as it has the colonial and historical port town of Levuka.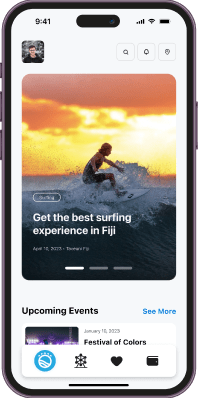 The only super app
you need in Fiji.