Budget guesthouses and hotels in Fiji
Are you looking for an affordable vacation in Fiji that doesn't compromise on quality or comfort? Look no further than some of the best cheap hotels in Fiji. Whether you're visiting Fiji's major towns or cities, these budget-friendly options will help you save money without sacrificing style or luxury.
Town House Apartment
If you're staying in Suva, the Town House Apartment is an excellent choice. This hotel offers self-contained rooms at affordable rates, along with luggage storage, a terrace, room service, and currency exchange. Plus, there's an on-site restaurant and bar serving delicious and affordable food specials throughout the day.
Capricorn International Hotel
If you're flying into Nadi, consider staying at the Capricorn International Hotel, located just seven minutes from the airport. This affordable hotel offers spacious rooms surrounded by pools and gardens, along with a beauty parlour where you can enjoy a Fijian massage. Unwind by the pool with a cocktail, or explore the nearby shopping and sightseeing destinations.
The Friendly North Inn
The Friendly North Inn is one of the cheapest places to stay in Vanua Levu. Located just two minutes from Labasa Town, this hotel offers private parking, lovely garden views, and conference and bure facilities. Enjoy a homey atmosphere and explore the city's attractive sites nearby.
Bedarra Beach Inn
For a beachfront getaway on the Coral Coast, the Bedarra Beach Inn is a popular holiday spot that won't break the bank. This hotel offers a beautiful outdoor pool, spectacular spa services, and delicious food at affordable prices. Relax in spacious rooms with private balconies and garden views, and indulge in a free Fijian ritual massage at the spa.
Tagimocia House Hotel
In Suva, the Tagimocia House Hotel is a peaceful, beautiful, and welcoming place to stay with family and friends. This well-kept hotel features Pacific Asian and Indian decor throughout the building, along with amazing rates for family rooms and special couples facilities. Enjoy a quiet atmosphere in the heart of the city, and treat yourself to delectable meals at the hotel's lounge.
Nadi Downtown Hotel
Finally, the Nadi Downtown Hotel is just 10 minutes from Nadi International Airport, making it a convenient and affordable option for your stay. This hotel offers airport pickups, tour specials, Wi-Fi, and 24-hour concierge service, along with three in-house restaurants serving a variety of cuisines. Relax in spacious and comfortable rooms with modern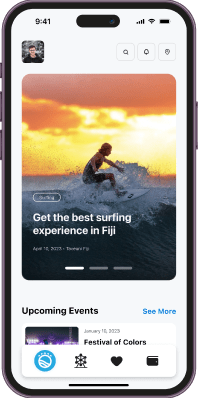 The only super app
you need in Fiji.