Best resorts for paddle-boarding in Fiji
If you're a genuine water enthusiast, you'll understand the exquisite beauty of being in the waters of Fiji. Those fortunate enough to explore Fiji's unspoiled natural wonders truly appreciate the experience. As a water lover, you're aware that stand-up paddleboarding is one of the most fantastic ways to discover the coastlines. If you're eager to try this remarkable water sport in paradise, take a look at these resorts that can turn your dream into reality by providing exceptional services, and the best part is, they offer free paddleboard rentals – who doesn't love complimentary perks, right? Let's explore some of the resorts where you can stay to enjoy this thrilling adventure.
Turtle Island Fiji
Turtle Island Fiji is an all-inclusive private island retreat that leaves an indelible impression. This luxurious resort caters to all your needs. It not only offers picture-perfect surroundings with breathtaking views and exclusive services but also provides an opportunity to enjoy paddleboarding without the crowds. Here, you can explore the shores without much interference, as there are not many people around. While peacefully playing in the water, keep an eye out for sea creatures like manta rays, crabs, and starfish.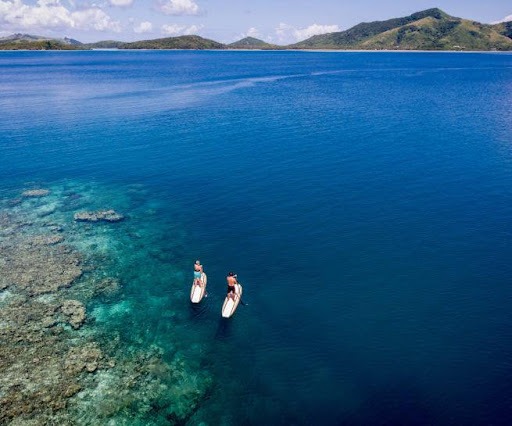 Koro Sun Resort
Nestled within a 160-acre sanctuary on Vanua Levu Island, Koro Sun Resort is a stunning retreat. If you find yourself on Vanua Levu, make sure to experience a stay at Koro Sun Resort. They offer exceptional service amidst beautiful surroundings and warm Fijian hospitality. Paddleboard from the resort to witness the mesmerizing beauty of the Northern Division of Fiji. It's a magical experience.
VOMO Island Fiji
Escape to island life on the mesmerizing Mamanuca Island. Enjoy luxurious living at VOMO Island Resort, where there's so much to do and experience. VOMO Island is also one of the top resorts in Fiji for paddleboarding. You can frolic in the waters and explore the island's shores. One of the remarkable aspects of VOMO Island is the embrace of "Fiji Time," encouraging you to slow down and create lifelong memories.
Castaway Island Fiji
This outstanding resort is located amidst the pristine waters of Mamanuca Island, which is renowned for its breathtaking views and natural beauty. Paddleboarding here is a visual delight, and you must experience it firsthand to fully appreciate the splendor of this location.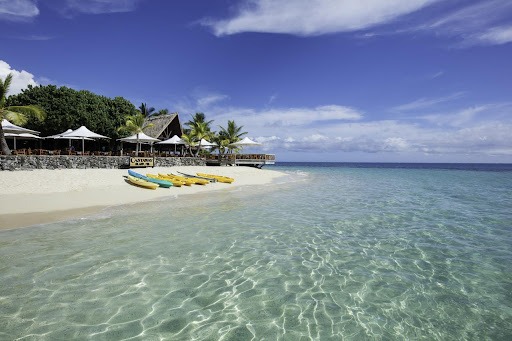 Nanuku Resort
Explore the captivating marine life of this paradise. Nanuku Resort is another splendid destination located in Pacific Harbour, offering you the chance to discover the breathtaking shoreline. At Nanuku, start your day with a morning stand-up paddleboarding excursion to greet the sun. The tranquility of the morning makes paddleboarding even more enjoyable than any other time. If you're not an early riser, set your alarm to ensure you don't miss this golden opportunity to watch the Fijian sunset while paddling. It will undoubtedly be worth it, trusting in the beauty of the Pacific mornings.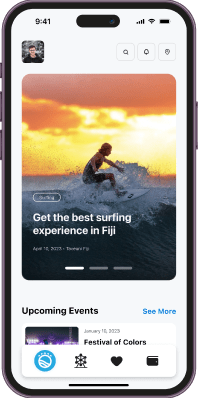 The only super app
you need in Fiji.