Best beaches to explore in Fiji
When Fiji comes to mind, what springs to your thoughts? Is it culture, cuisine, or perhaps the warm-hearted locals? Indeed, Fiji is a culturally diverse nation, known for its incredibly friendly people, rich heritage, and an array of culinary influences. But there's more to it. Fiji is renowned for its immaculate waters, boasting some of the world's most exquisite beaches. With their crystal-clear seas, velvety white sands, and abundant sunshine, Fiji's shores are a paradise for beach enthusiasts. If you relish the idea of a splendid beach day, complete with breathtaking sunrises, gentle coastal breezes, and the simple pleasure of strolling barefoot along pristine, sandy shores, then Fiji beckons as your dream vacation destination.
Here, we present ten of Fiji's finest beaches that absolutely warrant your exploration.
Natadola Beach
Photo Credit: Micks Fiji Tour and Transfers
Situated along the Coral Coast of the main island, Viti Levu, this beach is celebrated for its breathtaking vistas. It finds itself embraced by verdant hills, creating a picturesque backdrop to its pristine, transparent waters. It's an ideal spot for indulging in activities like swimming, sunbathing, and snorkeling. And, for an added adventure, be sure not to miss the opportunity for a delightful horseback ride along the shoreline.
Yasawa Island Resort Beach
Photo Credit: Yasawa Island Resort and Spa
Found on the picturesque Yasawa Islands, this beach is renowned for its remote and secluded setting. What elevates the allure of this beach to unparalleled heights is the pristine white sands juxtaposed against the azure waters, creating an irresistible invitation for barefoot walks and capturing romantic moments with your loved one. The sensation of luxury that envelops you in this idyllic setting is beyond words. Surrounded by swaying palm trees and embraced by crystal-clear waters, this beach offers a wealth of activities, including swimming, leisurely strolls, kayaking, and snorkeling, ensuring a memorable and enjoyable experience for all who visit.
Honeymoon Beach
Photo Credit: Turtle Island
The waters surrounding Yasawa Island possess a unique and enchanting quality. If you're planning a romantic getaway for couples in Fiji, complete with top-notch services and ample opportunities for exploration, then Yasawa Island is the ideal destination. Its breathtaking beaches create a truly romantic ambiance that's hard to match. You can easily access the awe-inspiring beach from Turtle Island. Not only is the accommodation of the highest quality, but the honeymoon beach is also renowned for its exquisite beauty and velvety sands. Palm trees encircle the beach, and the water is remarkably clear, making it a perfect spot for couples to unwind and savor each other's company.
Liku Beach
Liku Beach, situated on Mamanuca Island and part of the picturesque Tokoriki Island Resort, is renowned as one of the most enchanting and romantic coastal spots in the area. Its beauty is exemplified by the breathtaking surroundings of verdant hills and the enticing clarity of its waters, compelling visitors to immerse themselves fully. Accessible with ease from Tokoriki Island Resort, Liku Beach offers a wealth of activities, including swimming, snorkeling, surfing, and kayaking, making it an ideal destination for aquatic adventures.
Long Beach
Embark on an extensive stroll, covering numerous kilometers, to fully immerse yourself in the splendor of nature, ranging from breathtaking rainforests to mountain vistas and luxuriant palm trees. As you journey along Fiji's longest beach, which graces the shores of Kadavu, the nation's fourth-largest island, leave behind your footprints in the silky-smooth sand. There's no experience quite like walking barefoot with your partner, cherishing the beauty of Fiji, and strengthening your connection while witnessing the glorious sunset.
Beachcomber Island Beach
Situated on Beachcomber Island, this beach is renowned for its vibrant ambiance. It is embraced by palm trees and features exceptionally clear waters. Take the opportunity to engage in activities like swimming, snorkeling, and surfing during your visit. Additionally, this beach serves as an excellent gathering spot for meeting new people and enjoying a good time.

Sunset Beach
This stunning beach located on Mamanuca Island is renowned as one of Fiji's finest, primarily due to its breathtaking sunrise views, which transform it into one of the most magnificent white-sand beaches in the region. As you stroll barefoot along this exceptional shoreline, bask in the warmth of the sun. Prepare to be captivated by the awe-inspiring vistas and otherworldly beauty that Mamanuca Island has to offer.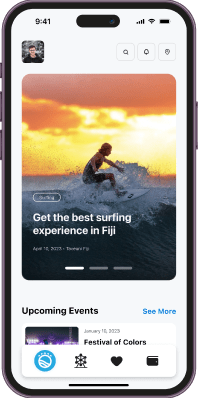 The only super app
you need in Fiji.