Affordable Fiji accommodations for backpackers
It is no secret that Fiji is on the pricier end of the tourist destination spectrum, with expensive accommodations and pricey airfares always a hindrance to many. However, Fiji has also been accommodative to budget travellers and backpackers. With some research, appropriate places to look and right timing, and after reading this, you will be on the right track. As there are a lot of affordable backpacking accommodations available, we will choose three of the best backpacking accommodations in Nadi, three from Rakiraki, Ra, one from the Coral coast and two from the Mamanuca's. Keep in mind, unless you've done a thorough research of where you'd like to be in Fiji and have reliable sources, avoid venturing outside of mainland Viti Levu and its nearby islands.
Bamboo Travellers
Photo Credit: Zenhotels.
Often referred to as Bamboo backpackers, this accommodation is actually a quaint little place by the beach, accommodative to families, large groups but especially for the ideal solo traveller. Located 15 minutes from the Nadi international airport, this affordable beachside accommodation has 24-hour airport pickup, free luggage storage, free wifi and a variety of dormitories to choose from. On premises activities include enjoying live music of acoustic Fijian style every evening, plunging in the pool or the sea, beach bonfires, kava ceremonies and volleyball sessions to participate in.
Bluewater Lodge
Also located on Baravi road, Wailoaloa beach and right next to Bamboo travellers, Bluewater lodge is a pleasantly concrete double-story building. To the unknowing eye, it looks like any other residential house but for those looking for comfortable and cheap accommodation, Bluewater is the affordable quiet comfort you are dreaming of. Bunk Beds and queen sizes are available, alongside other on-site amenities such as a pool, parking, air conditioning and internet for guests. Off premises activities like horse-back riding, golfing and other activities can be arranged as it is minutes from the natural and phenomenal sites in the Nadi area and the Mamanuca.
Matasawa resort
Photo Credit: Matasawa Resort.
Also located in the Wailoaloa beach area, specifically on Wasawasa road. Although this 3-star resort isn't the usual unconventional backpacker accommodation, its cheap rates and friendly staff makes this resort an easy recommendation. A 2-minute walk from the beach, this resort is conveniently placed within distance from supermarkets and restaurants, and even serves some delicious but affordable food.
The Beehive Fiji
One of Suncoast's most pleasant and affordable accommodations, this bed and breakfast is the place to stay when looking for some serenity. If remoteness and nature is what you're after, then this accommodation is for you. Set in a cute little farm on Wailevu road, in the Rakiraki outskirts, Beehive Fiji is beautifully nestled against mountains and is an 18-minute drive to Rakiraki town which is located to the east. Nadi airport is a 2-hour drive southwest of the B&B.
No Worries Bay- Sega na Leqa
Photo Credit: No Worries Bay.
Near the tip of the Volivoli peninsula, Rakiraki, Sega na leqa is a quaint and serene accommodation with its studios and bungalows between 180 FJD (120.55 AUD) – 255 FJD (170.80 AUD). This accommodation gives you the space to enjoy activities off premises or laze around the pool and the beach all day, which by the way is free to all guests.
Macdonald's Beach Cottage
Located on the Nananu-i-ra island, and promptly facing the Volivoli peninsula. This accommodation is the best in the area with fully equipped kitchenettes. Dormitories are as cheap as 26 FJD (17.42 AUD) but there are also other rooms available, such as self-contained cottages that can host a family or a group or the twin room which has 2 single beds. The most spectacular activities you can do are kiteboarding, windsurfing and scuba diving in the Vatu-i-ra seascape and the Bligh waters.
South Sea Island Accommodation
Photo Credit: South Sea Island
On a tiny atoll about 15 kilometres from the Denarau marina, sits the South Sea Island Accommodation which is aptly named after the atoll. The island is the Mamanucas number one day trip destination and is actually quite affordable for a night or two nights stay. A night-stay at the island's dormitory is about 275 FJD (185 AUD), which is inclusive of transfers from and to the Nadi area. Compulsory meal plans of 99 FJD (66.33 AUD) can be bought at the resort or through check-in prior to departure at the marina. The activities on-site and off premises are to be taken advantage of, as they include kayaking, snorkelling, scuba diving and a trip inside the semi-submersible coral viewer.
Ratu Kini's Backpackers and Dive Resort
A little further off, 30 kilometres from the Denarau marina, on Mana island in the Mamanucas, Ratu Kini's backpackers is the number one hostel to be in the area. With a fully operational dive shop on-site, you can guess that the resort's focus is not on luxury or comfort but on adventure. Here, you can earn your open water PADI's diving certificate and explore the soft coral capital of the world. A two-night stay is roughly around 220 FJD (147.50 AUD) with all meals and transfers included, plus a third-night stay is completely free of charge.
Uprising Beach Resort
Photo Credit: Hotels.com
One of Coral coast's more affordable and comfortable lodging. Uprising Beach Resort is a Fijian themed accommodation with single dwelling bures equipped to accommodate solo travellers, families or larger groups with their deluxe villas, classic standard bures and dormitories that can sleep 20 people. The 3-star hotel has a restaurant onsite and activities like game fishing, scuba diving, kayaking and beach volleyball available for you.
Be sure to check out other B&B's and homestays as well. For even cheaper prices do plan for your trips for non-peak seasons.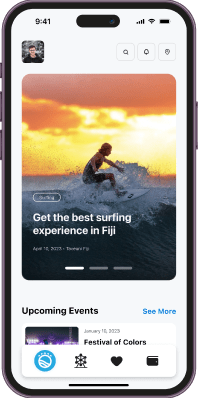 The only super app
you need in Fiji.