Spontaneous holiday plans offer not only enjoyment but also a high likelihood of materializing. Sometimes, when meticulous planning doesn't quite work out, it's often better to simply pack your bags and head to your favorite destination. Fiji is a prime example of an ideal spontaneous holiday spot, where you can have an incredible time without breaking the bank. Contrary to the notion that you need a large budget to savor a fantastic day in Fiji, you can explore and experience a lot on a modest budget, allowing you to save money while enjoying a fantastic weekend getaway. Whether you decide to venture to this paradise alone or with your family, you're guaranteed to have a memorable three-day adventure filled with food, relaxation, and excitement. While time may be a constraint, Fiji can be your perfect companion if you crave a sudden change in your holiday experience. Let's break down a budget itinerary plan for your Fiji weekend adventure. This guide will help you save both time and money, ensuring a delightful experience.
Destinations
For this weekend itinerary, we recommend exploring Fiji's mainland, Viti Levu. Why? There's an abundance of activities, from relaxation to adrenaline-pumping adventures, all within a short time frame and budget. The remarkable Denarau Island promises an exhilarating and unforgettable experience.
Travel Options in Fiji
A fun-filled family vacation involves shopping, dining, thrilling activities, and extensive travel. In this itinerary, you'll journey to Fiji's main island, Viti Levu, where well-maintained roads make for a comfortable and enjoyable trip. If your budget allows, consider renting a car in Fiji, granting you flexibility and convenience, especially if you're traveling with children. Alternatively, you can utilize the affordable public transportation services, including local buses and express options, to reach your destinations. To explore specific locations, simply hire a taxi.
Day 1: Arrival and Exploration (Friday)
There's nothing quite like the warm welcome you'll receive from the friendly people of Fiji. Upon arrival at Nadi International Airport, a short ten-minute taxi ride will take you to Denarau Island. You'll find taxis in Fiji operate on meters. Check in at budget-friendly accommodations such as the Sheraton Fiji Resort or Sofitel Fiji Resort, then take some time to relax and refresh. Enjoy a cold shower or take a dip in the resort's swimming pool, get dressed, and embark on your exploration of Nadi, starting on the very first day. With limited time and plenty to see and do, begin your day by visiting the Garden of the Sleeping Giant, where you can admire beautiful orchids and lush gardens. Next, head to the Sabeto Hot Springs and Mud Pool for a rejuvenating experience. Take a therapeutic mud bath and relax. Nadi Town is an excellent place for shopping. Explore the Nadi Handicraft Market for essentials, souvenirs, and local products, including fresh fruits and vegetables. Don't forget to visit the Sri Siva Subramaniya Temple, the largest Hindu temple in the Pacific, located at the southern end of Nadi's main road. This temple symbolizes the presence of Indo-Fijians in Fiji and their diverse culture and influence. When visiting, be sure to dress appropriately. Inside the temple, you'll gain insight into Hinduism and its deities. The colorful temple is a highlight of Nadi Town. Finally, return to your hotel to rest up for another day of travel. You can dine at the resort, cook your own meal, or opt for takeout.

Day 2: Explore Magical Mamanuca Island (Saturday)
Mamanuca Island is blessed with lush tropical rainforests, mountains, and crystal-clear turquoise waters. Spending a day here feels like a dream come true. From Port Denarau, you can reach Mamanuca Island by ferry or take a boat ride from Wailoaloa Beach to nearby islands. Since Mamanuca Island boasts warm, calming waters, waste no time and start your exploration of the underwater world with snorkeling, a must-do activity to see tropical fish. Utilize the resort's kayaks to explore the azure waters. Hike around the magnificent island, discovering hidden beaches and historical sites. Of course, amidst your travels, treat yourself to a spa session and some "Fiji Time," enjoying a soothing massage on the beautiful island. Saturdays are meant for indulgence, so spoil yourself with delicious Fijian-style cocktails and cold beers. Sip on refreshing tropical drinks while unwinding on the beach, watching the sunset. Don't miss out on the resort's entertainment, which often includes Meke dance performances and kava ceremonies, offering guests a taste of Fijian lifestyle and culture. Conclude your outstanding weekend trip with outdoor nighttime entertainment at your resort. Savor delicious food and enjoy one last comfortable night's sleep in Fiji.
Day 3: Farewell (Sunday)
Saying goodbye can be one of the most challenging parts of your trip. Let's be honest; you won't want your vacation to end with so much to see and do. Consider planning a longer itinerary next time. From Mamanuca Islands, it's time to return to the mainland for Nadi International Airport. As you reflect on this thrilling and adventure-packed trip, be sure to plan your return visit.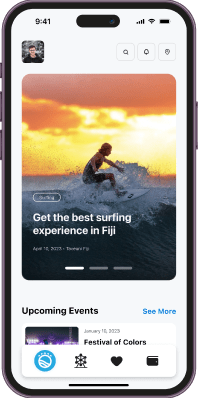 The only super app
you need in Fiji.