Well-known for its friendly people, crystal clear waters, pristine beaches, heavenly tropical islands, Fiji is a popular holiday destination. If you're visiting Fiji and looking for some meaningful souvenirs, Fiji has a great selection of hand-made handicrafts and mementos. 
Below are some of the best things to buy while you're shopping in Fiji!
1. Sulu (Sarong)
You can find the traditional Fijian sulu across the country in most gift shops and handicraft markets. You'll be spoilt for choice as the sulu comes in different motifs and colours. It's highly recommended to purchase one for yourself especially if you are interested in visiting a local village. It's customary to cover your legs when visiting a traditional Fijian village. Otherwise, the sulu also makes an ideal gift for friends and family back home. 
2. Carved Wooden Masks
Hand carved masks are interesting gifts and decors from Fiji. The masks are usually hand carved and depict local deities or legendary creatures. The Tiki masks are said to infuse the wearer with the characteristics of the face carved into it. There are also some that didn't represent any deities but other shapes such as turtles, which is significant in Fiji. Tiki masks can be easily found throughout Fiji islands.
3. Lali Drums
Lali drums were traditionally made from resonant hardwood timbers and are an important part of traditional Fijian culture. They were used as a form of communication to announce births, deaths and wars. Portable war drums had two or three resonating chambers and sent complicated signals over the battlefield. Smaller Lali drums are used in music. You will see them in use in multiple ceremonies such as the Meke Ceremony or to announce church services during village stays. 
4. Tapa Cloth
A popular art form in Fiji is the creation of the Fijian masi, also known as tapa cloth. The bark cloth commonly known as tapa was named by early explorers who derived the term from Tahiti, Samoa and Tonga where the word was used to refer to the white unpainted borders of the finished product. Masi is made from the inner bark of the paper mulberry tree (Broussonetia papyrifera). Masi can be used as a ceremonial dress, garments, wall décor, table mat or blanket. In the past, Fijian masi was used for men's clothing, bedding, house partitions and mosquito curtains. Fijians display and present them as ceremonial gifts during important ceremonies such as weddings, births and funerals. 
5. Black Pearls
One of the world's rarest pearls is being cultured in Fiji. Unlike other well-known pearls which are black or silvery white, Fiji's pearls that are being cultured in Savusavu have a dash of rainbow colours blending with its silvery white coating, giving it an unmatched beauty. The pearls have different grades depending on their colouration and shape. You can even take an educational tour of the pearl farms to learn about the history of pearling in Fiji and there is even a snorkelling tour if you bring your own gear.  
Download the GoFiji app to redeem 15% OFF Lumisa, J Hunter Pearls and Allure South Sea Pearls products.
6. Woven Mat or Basket
Handcrafted products are widely available in Fiji. There are many different types of woven baskets that are specific to different uses and are still used for day-to-day activities such as fishing, collecting crops and serving food. Kato (basket) for personal uses display more elaborate and fine weaving techniques today. Most of the products are intricately woven by artisan women from the rural villages. Thus, you can support the livelihood and income of these locals. 
7. Cannibal Fork
Fiji's cannibalistic past is no secret – in fact, there are mementos of this morbid history in nearly every souvenir shop in Fiji. Handcrafted wooden cannibal forks with four prongs on the end come in all sorts of sizes and tiny cannibal figures made from polished coconut shells adorn the shop shelves. Traditionally, forks of this pattern were reserved for the use of chiefs at cannibal feasts. Cannibal forks are called ai cula ni bokola by the locals. 
8. Traditional Fijian Pottery
Pottery is a craft that dates from the original settlement of Fiji around 1290 BC. Although pottery styles and decoration have changed over time, the art of pottery-making has persisted in the Fiji islands to the present day. Almost all the women have pottery skills and all pottery is handcrafted with a lot of time and effort. The village of Nalotu on the island of Kadavu and the provinces of Rewa and Nadroga are famous for their pottery, much of which is still made in accordance with the rules and methods that were used hundreds of years ago.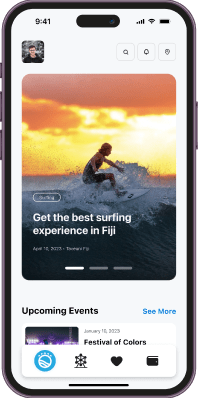 The only super app
you need in Fiji.