3 luxurious massage treatments in Fiji that you truly deserve
Tensed and troubled? It's time to indulge in these 3 luxurious massages in Fiji.
Whether you're working remotely or hustling on-site in an office space, life could sometimes toll you. So pamper your tired physique and weary soul with these in-house or beachside massages that could only be found in Fiji.
1. Bebe Spa
Within the spectacular confines of Outrigger Fiji Beach Resort lies a lush refuge you'd never want to leave. Boasting a majestic architectural concept, Bebe Spa is home to eight treatment rooms and private open-air balconies that give you a front-row seat to the vast views of the Coral Coast.
Our pick: Bebe Vakaviti Signature Massage. It marries traditional Fijian massage techniques with a Hawaiian twist. Moreover, this treatment incorporates light stretching and gentle application of warm towels to melt away tension, re-center the body, and cleanse the mind and spirit.
Promising review: "My masseuse Amelia made my massage experience so comfortable that I fell asleep almost alln throughout the session."
2. Island Surf Beauty & Spa
Immerse yourself in total relaxation at a luxury massage spot, Island Surf Beauty & Spa from start to finish. Their therapists are expertly trained and fully dedicated to administering treatments fit for royals. It's worth noting that Island Surf Beauty & Spa provides free transfers to and from your Nadi or Denarau Hotel, so you don't have to worry about transport.
Our pick: Fijian Bobo. This traditional massage applies firm massage techniques using a rich, exotic oil blend to increase circulation. It also draws out toxins and reduces muscular aches and pains with a warm poultice of Fijian medicinal makita and macou herbsto annihilate specific areas of tension.
Promising review: "Fabulous massage place that's located centrally and open until late afternoon. I've been in several spa and massage centres in Fiji, and I can confidently say that this is one of the best ones I've been to. The masseuses working here are so attentive and completely professionals, so I felt pampered the whole time."
3. Heavenly Spa By Westin™
International multi-chain hotel Westin Hotels & Resorts is famous for owning renowned luxury properties globally. So, it's without a doubt that their Fiji arm, The Westin Denarau Island Resort & Spa isn't one to fall short in the lavish department. Their in-house spa Heavenly Spa By Westin™ specifically promises to rejuvenate the mind and body "with a personal sensory experience".
Our pick: Heavenly Spa Signature Massage. This hour-long massage features a three-stone, Swedish-style medium-to-firm massage that uses a signature oil blend to create a personalized treatment. It also claims to increase the feeling of clarity and serenity.
Promising review: "I was greeted with a lovely bula from the staff at reception. The lady that did my mani-pedi was just the sweetest lady EVER. She was very friendly and kind, and I definitely will return to see her before I leave. Thank you so much Esili for the incredible service. It's a must-do if you visit here!"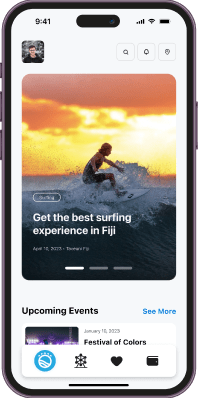 The only super app
you need in Fiji.