Fiji is a small island country located in the South Pacific. Fiji is a tourist hub where tourists come to Fiji to enjoy its warm weather, white sandy beaches, clear waters and welcoming atmosphere. There are plenty for tourists to experience and below are just some fun facts of the beautiful country.
1. Fiji is made up of 332 islands, with 223 of them being uninhabited. Its two largest islands are Viti Levu and Vanua Levu.
2. Fiji is a small island country located in the South Pacific sandwiched between the north of New Zealand and east of Australia.
3. In Fiji, you'll be greeted with a big smile and 'Bula!' when passing by the locals while you're walking on the street. You can return the greetings with 'Bula' or 'Ni sa Bula'. It's the local way of saying a friendly 'hello' in Fiji.
4. To up your Fijian language, always say 'Vinaka' to thank them for their kind hospitality and 'Moce' (pronounced as 'Mothay' or 'Ni sa moce' for goodbye!
5. Nadi is the port of entry for all international tourists and home to the Nadi International Airport (NAN). The popular tourist hub, Denarau Island is located in Nadi. It is an island where the hotels like Sheraton, Hilton, Wyndham, Westin, Sofitel and Radisson are located. Denarau also has a marina complex located on the island, which is known as Port Denarau.
6. Port Denarau is also a port of entry for yachts, super yachts, sailing boats, cruise liners,etc. It is also where you go to get on boats that go to the Mamanuca Islands and the Yasawa Islands. You can also fulfill your retail therapy here with the many restaurants, clothing shops, and supermarkets.
7. Fiji has a lot of local delicacies but one of the most popular cooking methods used by the locals is known as "Lovo". This refers to an underground oven which is used for cooking a feast, and this is done for both small and large numbers of people at gatherings.
8. Fiji is a beach paradise for both luxury travellers as well as budget backpackers. There are actually numerous backpacker resorts scattered throughout Fiji. Some of them are located at Wailoaloa, Nadi, and some of the well-known backpacker resorts include Sailors Beach Fiji, Smugglers Cove Fiji and Aquarius on the Beach Fiji.
9. Fiji holds events all year round. You'll be spoilt for choice with a vibrant event scene, from local workshops to international music festivals. The biggest event in Fiji is the annual Rugby Festival!
10. Fiji plans to be completely plastic-bag-free to save marine life from the environmentally unfriendly material, which can take up to 1000 years to disintegrate.
11. Sugar is a huge agricultural export for Fiji, and the country produced a whopping 160,204 tonnes of raw sugar in 2018 alone.
12. Fijians hold rugby in high regard as it is the national sport. Its men's team is ranked ninth in the world, and the rugby-mad nation has about 80,000 registered rugby players. That equates to around one in 10 people!
13. For nearly a century beginning in 1874, the British government ruled over the territory of Fiji. British control over the area formally started after a number of the highest-ranking traditional Fijian chiefs, such as Ma'afu and Cakobau signed the Deed of Concession.
14. Nearly five centuries ago on Bega Island, the Sawau tribe introduced the fire walking ceremony which would later become one of the most popular activities within Fiji. The fire walking tradition was passed down from one generation of the Sawau tribe to the next. You can witness the tradition in some hotels and resorts throughout the island.
15. Fiji is home to over 4,000 square miles of coral reef, including the Great Astrolabe Reef. The aquatic life is in abundance, with over 1000 species of fish living here.
16. Fiji is also home to about 800 species of plants which are found nowhere else in the world. The most famous of these is the tagimoucia flower which has gained a celebrity status because of its beauty and rarity. This crimson and white flower grows only on a single mountain ridge on the northern island of Taveuni.
17. The largest Hindu temple in the entire Southern Hemisphere is the Sri Siva Subramanuya in Nadi.
18. Cannibalism is a part of the country's history and culture. According to archaeological evidence, the practice is at least 2,500 years old. The practice was believed to end in the mid-19th century when Christian missionaries gained influence.
19. Don't get confused if someone raises their eyebrows while answering your questions. Many Fijians raise their eyebrows as a way of saying "yes".
These are just a few fun facts about Fiji. The best way for you to find out the local quirks and customs would be to experience Fiji for yourself!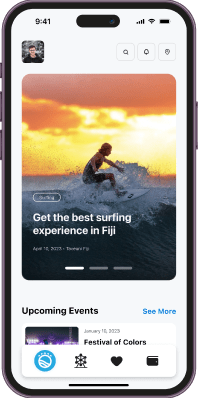 The only super app
you need in Fiji.