15 exciting activities for your Fijian adventure
Whether you are looking for an adrenaline rush, to work up some sweat, or a relaxing day, there is something for you.

If you're planning a trip to Fiji, yay! You will not regret it.

Now comes the fun part: picking out activities to do in Fiji.

Without further ado, here are some suggestions you're sure to enjoy.
Go snorkelling or diving
Fiji is the soft coral capital of the world. A short distance below the sea level lies a whole other colourful world. The two main islands, Viti Levu and Vanua Levu, are host to some breathtaking sites that are the reason Fiji deserves its title.
Also, remember to check out Rakiraki in the north-eastern section of Viti Levu and Namena Marine Park at Savusavu. And for the more experienced divers, consider the three largest offshore islands: Taveuni, Kadavu, and Beqa.
Chill on the beaches
What is a beach vacation without a lazy day on the beach? A full day of doing nothing but digging your toes into the sand is a must while you're in Fiji.
Some beaches you don't want to miss are:
Monuriki, also known as Tom Hanks Island because the 2001 movie Cast Away starring Tom Hanks was filmed there
Natadola Beach, Viti Levu
Long Beach, Nacula
Caqalai
Blue Lagoon, Nanuya Lailai
Levena Beach, Taveuni
Waya
Enjoy water sports
Where there's clear, blue waters, there are exciting water sports to partake in. Rent a paddleboard or kayak and have some fun. Go windsurfing or kitesurfing. Try sailing. The sea is the limit.
Go for a hike
While Fiji is known for its clear waters and gorgeous corals, there are also some stunning hiking trails to boast of. After days of fun at the beach, take a hike for a change in scenery.
The following are some great treks that will give you a nice appreciation of Fiji:
Mt Koroyanitu Trail
Lavena Coastal Walk
Sigatoka Sand Dunes Walk
Mt Tomanivi Hike
Mt Vomo Trail
Mt Korobaba Hike
Vatalutu Trails
Lekutulevu Waterfall Hike
Waya Island Walks
Naiwaisomo Waterfall Hike
Take a relaxing cruise
If you wish, you could even take a cruise from various ports in Australia, New Zealand, or Tahiti.
Otherwise, settle for a cruise among the islands of Fiji. In fact, taking a local cruise like this is the way to see the "real" Fiji.
Participate in a kava ceremony
It is common for Fijian families to gather and enjoy kava together daily, thus it is also known as "Fiji time".
Kava simply means grog, the national drink of Fiji. It is made from the crushed root of yaqona and gives you a pleasant, numbing feeling in the mouth. The drink is served in a large communal bowl during a ceremony, often to welcome guests to the village.
Do read up on the Fijian etiquette first should you wish to participate in a kava ceremony.
Visit the local villages
Would like a break from the hustle-bustle of the bigger towns? Then take a trip to a local village where you can enjoy the architecture and do some shopping.
Here are some villages to start you off:
Navala
Levuka
Sigatoka
Savusavu
Port Denarau
Go bird-watching
Fiji is home to some of the most exotic birds on the planet. If bird-watching is your thing, you're about to step into paradise. Stand a chance to spot these beautiful birds:
Fiji woodswallow
Beci
Kadavu crimson shining parrot
Sukphur-breasted myzomela
Collared Lory
Orange fruit dove
Fiji parrotfinch
Sacred & collared kingfisher
Try surfing
You bet Fiji has some tip-top surfing spots. If you're looking to catch some waves, try any of the popular surf spots — Cloudbreak, Wilkes Pass, Natadola, Fiji Pipe, and King Kong Left & Right.
Experience skydiving
Yes, skydiving is another exciting activity you can experience in Fiji. Jump out of a plane (strapped to an instructor, of course, unless you're licensed yourself) and watch the beautiful archipelago rush up to meet you.
Enjoy a traditional Fijian lovo
A Fijian lovo is a banquet cooked using an earth oven. The lovo is usually prepared for special occasions and is a major part of the local culinary scene.
To prepare a lovo meal, a hole is dug in the ground and hot coals are placed inside. Next, the chef wraps the ingredients (often in banana leaf to preserve the moisture) and places them on the coal. Favourites are chicken, pork, fish, vegetables, and palusami, which is taro leaves filled with corned beef, onions, and coconut cream.
After placing the food inside the pit, the chef covers the hole with banana leaves, soil, or potato sacks. The food is left to cook for several hours, after which a cooked, scrumptious meal is served.
Zip line through the trees
Take a treetop adventure; literally on top of the trees. Feel the wind in your face as you soar like a bird over lush trees, rivers, and waterfalls. It'll be heavenly.
Book your zipline adventure on GoFiji's app today!


Experience a banana leaf massage
Need a day of pure pampering? Get a banana leaf massage. The banana leaf isn't just for aesthetics; they are also detoxifying. You just might fall asleep.
Go fishing
If you've had fun eating the fishes in Fiji, why not catch a few of your own? There are some sweet fishing spots in Fiji, including
Near Suva, south of Viti Levu – giant trevally, yellowfin, marlin (depends on the time of year)
Around Kaduva, south of Suva – Spanish mackerel and yellowfin tuna
Tavenuni, northeast of Suva – tuna and mackerel
Around Namotu Island – Spanish mackerel, giant trevally, wahoo, and marlin
You can charter a boat if you wish to venture to Suva, Kaduva, or Taveuni.
Live in a bure
A bure is a Fijian-style bungalow, usually found on the beach with an outdoor shower. Many resorts offer the option. It's a fun experience that will make you go, ah, I'm in Fiji!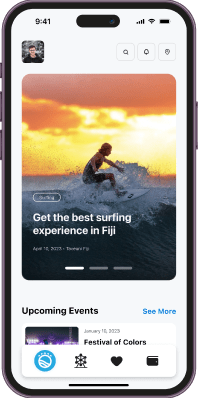 The only super app
you need in Fiji.