11 affordable romantic beachfront hotels in Fiji under $300
Fiji is one of those countries renowned for being the most idyllic honeymoon destination. Made up of 333 islands, if you're after a dreamy vacation filled with endless days of sunshine and great weather you've hit the nail on the head with this one. 
One thing you should know about travelling to Fiji is because of its makeup (and many of the islands being privately owned), a big portion of your budget is usually required for accommodation. To help alleviate this woe, we've found the best affordable options – so you have some extra dollars to spend on spoiling yourselves with a fine dining experience, picnic in the middle of the ocean or island hopping tour via seaplane charter. YUP! 
P.s. If you've never heard the term 'bure' before, it's often used in Fiji and refers to a bungalow-style accommodation. 
1. Wake up in the middle of the ocean: Koro Sun Resort & Spa
Right from the get-go…these ocean bures (bungalow villas) are everything and remind us much of the stays in island countries like the Maldives. 
Built into the ocean and connected by a boardwalk to land, wake up in the morning and enjoy a cuppa on your floating patio, private kayak included! All options include private bathrooms and spacious living areas. They also offer on-land options with mountain views. 
Rate: From USD $235
Address: Hibiscus Hwy, Savusavu, Fiji 


2. Everything you need, and MORE: InterContinental Fiji Golf Resort & Spa
Equipped with everything you need on-site for the perfect island getaway, there's little reason for you to want to leave this resort! 
Apart from the award-winning spa, there's also a championship 18-hole golf course on-site, not one but three swimming pools, five restaurants and bars and it's located right on the beachfront…Accommodation-wise, enjoy contemporary design and an open-plan setup, and the bathrooms are spectacular! 
Rate: From USD $191
Address: Maro Road Natadola Bay Natadola, Fiji 


3. Pretend to be a mermaid all vacation long: Fiji Marriott Resort Momi Bay
Fall asleep and wake up in the ocean when checking into these stunning ocean bures, built straight in the water. 
The Over Water, Adults-only Bures offer maximum privacy and are designed super stylishly, from the decor to furniture to the finishing touches. The rounded rooftops give these bures a really authentic feel too, and because it does make a difference, the bathrooms are cool, clean and contemporary. 
Rate: From USD $282
Address: Savusavu Road Momi Bay Nadi, Fiji


4. Rise with your feet in the sand: Malolo Island Resort
Located right on the sands, wake up to not only the sounds of the waves rolling in, but the views to match the scenery too! 
Their bures are all situated on the beachfront, and all options include a separate living area, private patio area, mini fridge and tea/coffee makers. Plus, the high white wooden ceilings add a real sense of openness to the room. 
Rate: From USD $279
Address: 744W+JXR, Yaro, Fiji


5. Adults-only resort: Lomani Island Resort
Located on Fiji's second-largest isle in the Mamanuca Islands, spend your days tanning on soft sand beaches, bicycle through pathways of tall palm trees, or relax at a tropical cabana with a cocktail in hand at the guest pool.
All of the suite, bungalow and bure options are built right on the beachfront, done up in natural tones and light woods, adding warmth, cosiness and ambience. Enjoy the views from your private patio, and most options include a glorious outdoor shower too! 
Rate: From USD $290
Address:  Malolo Lailai, Fiji


6. With the most romantic activities on offer: DoubleTree Resort by Hilton Hotel Fiji 
From tennis courts to horseback riding, this next resort is a dreamy option overlooking the Mamanuca Islands. 
All accommodation options are located right on the beachfront and naturally, offer direct-facing ocean views to wake to. You'll also have a private patio and the high ceilings inside each bungalow/bure are lovely. Do take advantage of the many cultural activities that they offer too, plus there's a fitness centre and jogging track for guests to use. 
Rate: From USD $96 
Address:  Naisali Island, Fiji


7. The luxury resort is surrounded by crystal clear ocean: Shangri-La's Fijian Resort
Many of the islands in Fiji are privately owned/managed by resorts, and this next famous hotel brand is one of them. 
With all the tropical feels, the stylish resort stays true to its name providing guests all the comforts and amenities you need at your home away from home. Let hubby enjoy a round of golf, or the pair of you, at the resort's premium golfing course, whilst you unwind at the spa. 
Rate: From USD $188
Address: Yanuca Island Coral Coast Fiji Islands, Fiji 


8. Excusez-Moi, there's a butler service too?!: Outrigger on the Lagoon
Do you love picking a stay that truly exudes the authenticity of the destination you're travelling to? Ambient, comfortable and done up in traditional Fijian design, there's so.much.green that surrounds this location you can't help but feel naturally invigorated. 
There are many different room options, from beachfront ocean bures to bungalows built among the plantations. 
Rate: From USD $176
Address: Sydney Drive, Off The Queens Highway, Sigatoka, Fiji


9. A resort with its own marina!: Musket Cove Island Resort and Marina
One of Fiji's oldest hospitality brands owns this next massive resort and if you're after the full resort-life experience, you may wanna book this spot now! The private Musket Cove Yacht Clb & Marina is part of the resort, with yachts sailing through it feels like you're in Monaco. 
Built at the mouth of a lagoon, they offer both ocean and lagoon-side bure options, and rooms are stylishly decorated showing off a mix of Fijian and modern design. 
Rate: From USD $251
Address: Map 


10. Live that fancy high-roller resort life: Hilton Fiji Beach Resort and Spa
Another Hilton hotel, this time located on prestigious Denarau Island, check into your super modern and luxurious beachfront suite, and for those that are interior decor fans, you'll be impressed with the solid, quality finishes…A plush mattress, blackout curtains, coffee machine, you name it! 
Spend the evening taking a luxurious champagne bubble bath, laze around (or swim laps) in the massive beachfront pool overlooking the sea, or take a stroll to the marina, plus Port Denarau Shopping Centre is just 350 metres away. 
Rate: From USD $121
Address: Denarau Island, Fiji
11. A popular destination for beach weddings: Yatule Resort and Spa
Along the Coral Coast, the resort is built right on Natadola Beach, one of Fiji's favourites. 
Enjoy fire dancing shows at night on the beach, drinks around the pool, and breakfast with a view. All of the accommodation options are opposite the beach, with most suites, bungalows and villas directly facing the sea, or right on the sands. 
Rate: From USD $127
Address: Maro Road, Queens Highway, Natadola, Fiji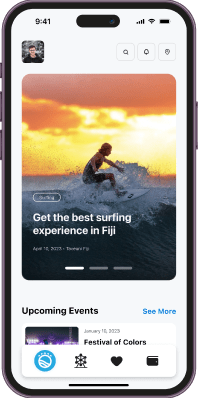 The only super app
you need in Fiji.