10 things to do in the Ba province
The province of Ba is the western most province of Viti Levu and the entire Fiji Islands. Ba is Fiji's biggest province, encompassing the entire western side of Viti Levu and its western seas. The province stretches from the highland mountains that it border's with the Nadroga-Navosa, Ra and Naitasiri provinces, to the sea that the Yasawa group occupies. Although Nadi also falls under this province, the popularity of Nadi and the extensiveness of the province gives Nadi, the Yasawa and other tourist-worthy places in Ba a chance for their own article. For this, here are 10 activities you can do in the greater Vuda, Lautoka and Ba area. We will start from Vuda and work northward to Lautoka and Ba.
Viseisei Village
Viseisei village plays an important role in indigenous traditional folklore. According to native Fijians, their forefathers who supposedly sailed from Africa on the ship Kaunitoni first landed on the coast of Vuda upon their arrival. From here, they journeyed through the mountains to settle in Ra before further distributing and dispersing throughout Fiji. This reason makes Viseisei the earliest settlement in Fiji with the village seeing tours every week. The village has a very strict but modest set-up and before going, your tour guide or tour company will instruct you about the do's and don'ts for the village. If you intend to visit Viseisei then, please take these instructions seriously as it is a very traditional and strict village.
Koroyanitu National Park
One of Fiji's few national forest reserves and the largest, Koroyanitu covers an extensive inland forest area of the Sabeto and Lautoka mountain region. Koroyanitu has one of Fiji's most amazing hiking trails- the Mt. Batilamu trail, cascading waterfalls-which has Fiji's highest waterfall, the Abaca waterfall, and the most immaculate view of the Lautoka area. The ambience is quite breathtaking, and even for such a remote area, the villagers of Abaca- the nearest village to the trails boasts about an average of 2000 visitors per year. Koroyanitu has all you need when looking for remote, challenging, wilderness but without actually leaving the island of Viti Levu.
Local cuisine: Lautoka
Photo Credit: Lautoka Hotel via Facebook.
Local cuisine in the western side is a bit more vibrant and nutritiously exotic than the capital city in Suva. This is largely attributed to the large Indian population that lives in the sugarcane operated towns of the Ba province. Up for some spicy Indian food? Head down to the market which is Fiji's largest, it has a variety of food, handicrafts and dry goods to choose from. The city of Lautoka also has a variety of deliciously spicy and flavoured foods sold in restaurants and sweets in kiosks. Cooked seafood is also available at the market and at the Lautoka wharf, located on the Waterfront road.
Bekana island
Bekana island is known for its picturesque picnics, located about a 100 metres off the coast of Lautoka. Bekana is a go-to picnic spot for anyone looking for beach, sun and some island vibes. Although, if the crowd and noise doesn't bother you since it's a popular picnic spot then check this place out.
Tavewa seabus
Photo Credit: Tavewa Seabus.
Want to sight-see Yasawa without getting off or need to transfer to one of its island resorts? The Tavewa seabus is for you! The seabus departs the Lautoka wharf daily at 8am making a round of Yasawa before docking back at the Lautoka wharf at 3-pm every afternoon. The 56-passenger fully licensed catamaran also provides courtesy shuttles along the Nadi and Lautoka corridor.
Local cuisine: Ba town
Ba town is known as Fiji's soccer town. It is also known for its exceptionally outstanding spicy Indian food, from spicy curry goat to some of the most mouth-watering Chicken Pulao. The Ba market is the first place to start your tour of Ba's local cuisine of Indian sweets and cooked Fijian seafood. There are a few restaurants in town to check out for some Indian food as well. The town is quite small and you can't get lost on your tour.
Navala Village
Photo Credit: The Fiji Times.
In the highlands of Ba, this village is known far and wide in Fiji and overseas for its rather unique feature- its traditional bure houses. Before modern structures, traditional Fijian houses were of a unique design with the houses made of thatched roofs and bamboo or reed walls. The origins of Navala are fairly recent, having been created when several highland villages merged to help build a children's primary school, now Navala Catholic School.
Zatara flats
Kitesurfing? If the island resorts are not what you're looking for then check out Zatara flats. About 12 kilometres off-shore from Vatia point in Ba, the area is a kitesurf heaven for those looking to chill and relax without being bound to resort time and conditions. If you are travelling by yacht whether chartered or not, then this is the place to stop and enjoy some kitesurfing from the months of July to September.
Vatukoula
Photo Credit: The Fiji Times.
Tavua is a little but busy, dusty town on the north point of Ba, known as Fiji's Gold town. There aren't any tourist-worthy places to soak in or any resorts nearby but the place is home to Fiji's only goldmine (Vatukoula), located 9 kilometres inland and south of Tavua. Vatukoula, which means 'Gold (koula) stone (vatu) in Fijian, has an interesting and extensive history that started from the 1800's.
Mt. Tomaniivi
Nearest to the provincial border of Ra, in the highlands, sits Fiji's highest mountain peak, Mt. Tomaniivi. Falling under the traditional lands of the village of Navai, you can get your guides from here, as well as permission. Mt. Tomaniivi is around 1000 metres in height and has a cool climate all year round. The road to Tomaniivi is past Tavua town and through the Korovou village dirt road that goes all the way up to the Monasavu dam, passing Navai.
If you're looking for some underrated sites that you can easily visit yourself, these sites are all for you.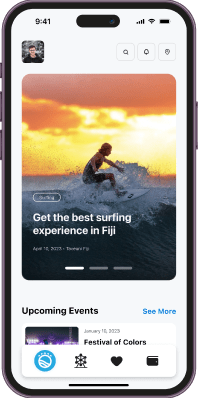 The only super app
you need in Fiji.