10 things to do in Savusavu: Fiji's hidden paradise
Savusavu has always been overlooked, having always been a back-bencher in tourism conversations. This has even earned Savusavu the moniker of being Fiji's hidden paradise, and in a way, this is true; Savusavu hides away some of the most unique natural wonders and amazing resorts in Fiji.
Here is a list of all the best things to do in one of Fiji's most underrated locations. For this list, with the centre being Savusavu town, we will start from the west of the Savusavu peninsula and work our way east (toward Labasa) before concluding with some of Savusavu's dive sites.

Flora Tropical Botanical Gardens

Photo Credit: Flora Tropical Botanical Gardens.

Situated 4 kilometres west of the Savusavu jetty, the gardens cover a 5-hectare land area. According to their website, the highlight of the garden is the palm collection of over 250 species, of which some palms are rare and endangered. The walkways are neatly paved with timber paths and cater for guests of all types. Garden activities include bird-watching and being a venue for exotic garden weddings.
KokoMana Cocoa & Chocolate
Located 1.6 kilometres west of the jetty, husband-wife duo, Richard and Anne own and operate the small business that opened in the 2010's. This farm that grows organic cocoa which is later processed into chocolate, provides employment to locals as well. Tours are available, with 'chocolate experience workshops' used as an interactive experience for visitors to partake. The workshops help visitors engage in the farm's chocolate-making process. Groups or resorts can organise to have workshops and presentations brought to them can contact the factory through numbers available on the factory website.
J.Hunter Pearl Farm

Photo Credit: J.Hunter Pearls.
A 3-minute walk from the Savusavu jetty, this pearl farm is a one-of-a-kind for Fiji. Established in 1999, pearl farmer Justin Hunter previously worked in their family-owned oyster farm marine hatchery in the USA before establishing the farm. The hatchery was opened in 2005, farming its first pearl oysters in that year and continuing to supply some of the most quality pearls to most high-end retailers in Suva and overseas.

Download the GoFiji app to get J Hunter Pearl discount vouchers when you shop at PROUDS Fiji
Nakama Thermal Hot Springs
Located in the heart of Savusavu town on Nakama road (off Lesianaceva road), the hot springs are about 750 metres east of the Savusavu jetty and about 3.7 kilometres north of the Savusavu airport along Hibiscus highway. The hot springs are right opposite the Savusavu hot spring hotel and you cannot miss its signboard.

The thermal hot springs have been around for centuries and have been a cooking solution for many locals who have cooked food or steamed their mats at the thermal springs. Geologists have noted the thermal intrusion seen here as a result of fault lines. Sea water at the adjacent shoreline is also abnormally hot, and it is believed to be naturally funnelled underground to the hot springs since the thermal water is high in saline properties.
Urata lookout café
Photo Credit: Katie Edwards.
The café is hardly known for what it sells but rather for its location. The café sits 11 kilometres from Savusavu town and spectacularly sits on one of Urata's highest points, overlooking the Savusavu Bay. The café has an outside counter that overlooks the bay which helps coffee drinkers and other patrons to enjoy their food while soaking in the incredible view.
Vuadomo Waterfall
Located 15 kilometres north of Savusavu town, this waterfall is accessible through a dirt trek. Before getting there, you must pay a fee at the village (Vuadomo), which guarantees entry. You can change at the waterfall, but you must dress modestly for the village.
Koro Sun Dive
Savusavu has some amazing dive shops to assist you in your dives, one of which is the Koro Sun Dive. The Koro Sun Dive is a dive shop located 9 kilometres southeast of Savusavu town on Hibiscus highway. Their dive site is full of colourful coral-life and schools of a variety of fish, including hammerheads and turtles.
Salt Lake Kayaking
Located 17 kilometres east of Koro Sun Dive on Hibiscus highway, the Salt Lake is in Naweni and has nearby accommodations. The lake has a creek that feeds it, and its waters are crystal blue and very clean, a scenic attraction for many kayak lovers.
Jean Costeau Dive
Fiji being the 'soft coral capital' of the world can be accorded to the luscious underwater life that makes up most of Fiji's magnificent reefs. The dive team at Jean Costeau resort are one of the best and will provide you with some of the best dive sites in Fiji, such as the famed Namena reef, located on the Namena reef reserve (off the Kubulau coast, Bua).
How to get to Savusavu?
Getting to Savusavu is quite easy, with a jetty located in town to cater for local ferries who berth once or twice a week and an airport positioned south, about a 3-minute drive from town.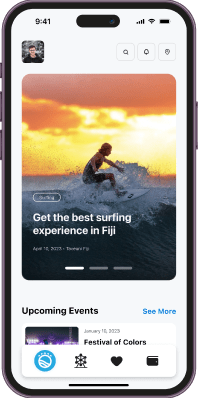 The only super app
you need in Fiji.