10 reasons why Fiji is an LGBTQ+ friendly destination
1. Homosexuality is not illegal in Fiji
The word 'bula' in Fijian translates to 'welcome' and that's exactly how you'll feel the moment you touch down in fabulous Fiji. 
Since 2010, homosexuality has been considered 'legal' and back in 1997, Fiji was the world's second country that protected the rights of those being discriminated against purely based on their sexual orientation.
2. Perfect honeymoon destination
Whilst same-sex marriages may not be legal (yet) in Fiji, commitment ceremonies in Fiji are popular among the LGBTQ+ community.
If you're set on legally solidifying your love elsewhere, this tropical paradise is a heavenly destination for an island honeymoon. Check into an all-inclusive adults-only resort, spend your days drinking Pina Coladas around the poolside, or work on your tan lines on a pristine soft sandy beach.
3. Have the option of choosing an LGBTQ+ friendly-stay
Whilst you won't at all be unwelcomed when booking any of the accommodations in Fiji, there are a bunch of hotels and resorts that are known for being LGBTQ+ friendly, where you'll feel just that extra bit more comfortable and at home, offering a safe community.
There are options to suit all budgets…Check into luxurious Tokoriki Island Resort, DoubleTree Resort by Hilton Hotel Fiji that is conveniently located near Nadi or opt for a beachfront villa at Six Senses.
4. Feel at ease while you laze around with your lover
If your intention is just to spend a quiet memorable time with your lover without those judgy eyes, Fiji is your best choice. There are also plenty of fun activities to do such as snorkelling, stand-up paddling, scuba diving, or simply laze around with some coconut drinks admiring the most breathtaking sunsets.
5. There are many cultural activities to indulge yourselves in
We all love to refuel our cultural tanks when travelling, right? One of the best parts of visiting any new country or city is getting to experience what local life is like for other cultures.
Deep dive straight into a rich culture and history right here in Fiji. Visit the local markets in main cities like Suva, check out the Fiji Museum in Nadi, wander through one of many ecotourism villages, like Abaca in the Koroyanitu National Heritage Park (also home to the scared native Dakua tree), enjoy fire dancing and take part in a traditional kava drinking ceremony.
6. Go island-hopping without interruptions
Consisting of an archipelago of 333 isles, no matter where you decide on basing yourselves for the duration of your stay, there are many day trips and outings to be enjoyed, both on land and out at sea.
Take an island day trip to Tivua Island, enjoy a relaxing boat cruise up the Navua River or spend the day in the sunshine hopping around the stunning Mamanuca Islands or Yasawa Islands loaded with many popular diving and snorkelling spots.
7. Forget being limited to one hotel, pick the entire private island, queen!
Apart from just LGBTQ+-friendly accommodation options, there are also a few private islands around that are extremely hospitable and welcoming, such as Taveuni Island.
In case you didn't know this before, out of the 333 Fijian islands, many of them have been bought privately, giving the buyers sole ownership. Many families have built private resorts on these islands and offer the option of hiring out the entire island – no, we're not kidding!
8. Enjoy a romantic sunset dinner cruise
If you do happen to be travelling with your partner, or even a group of friends, enjoy a bougie dinner cruise out on the water, departing from Denarau Marina on Denarau Island in Nadi.
Enjoy cocktails as the sun sets and the sky changes to a million different shades, enjoy a BBQ dinner, including the option of fresh lobster and there's even a cultural show that happens onboard.
P.s. There are tons of different cruise options, from river safari cruises to oceanic ones.
9. Relax and unwind at award-winning Spas
Famous in Fiji for being one of the best LGBTQ+-friendly resorts, the InterContinental Fiji Golf Resort and Spa also sports incredible spa treatments with the option of having yours done in a beachside cabana just metres from the ocean.
If you prefer to be indoors, the Orchid Room (ideal for groups too) offers an incredible treatment centre, including steam showers, a plunge pool and a relaxation lounge. Choose from a variety of treatments that combine Eastern and Western techniques and methods.
Apart from the spa at this hotel, there are other options around the islands.
10. Put on them dancing shoes and meet like-minded individuals/a community
Surprised to hear there's a nightlife scene that speaks for this community? You shouldn't be!
Don't miss the intergalactic nightclub known as Purple Haze in Suva, and there are also a few clubs in Nadi and Lautoka that welcome all people, no matter your orientation. If you happen to be travelling here during the annual Fijian Sugar Festival, don't miss night six where they host the Priscilla Night, a competition run by the transgender and gay community in Fiji. Here trans, gay, bi, heck, anyone can enter, and at the end of it, they crown a Priscilla Queen.
11. World Class Golfing
Although it might sound quite ironic to refer to it as the Gentleman's Game, it's a sport known for its fine etiquette and sportsmanship, the reason why so many enjoy the sport still to this day…for some, it's super therapeutic too.
Enjoy world-class golfing courses, and there are even accommodation options that host golfing ranges within the property! Time to perfect that backswing!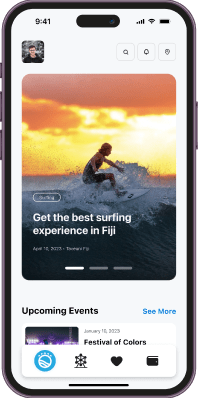 The only super app
you need in Fiji.