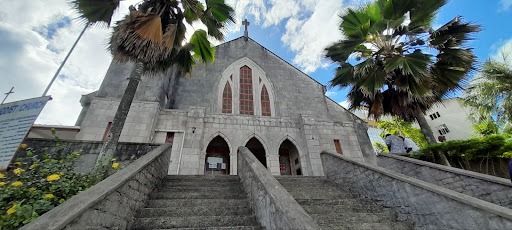 One of the capital city's few cathedrals and churches, the centenary church has a long collected history and, like the sacred heart cathedral, is of significance to the main body of the Methodist Church in Fiji and Rotuma. This piece will highlight the history, structure and the church's role in the Methodist church.
Brief history of the Centenary Church in Suva
The Centenary church, although named and seen as a church, gives an appearance of a rather brutish and gloomy-looking gothic cathedral, which looks similar to that of the Sacred Heart Cathedral on Pratt Street. 
The interior suggests otherwise, giving a bright and modern look. The church is located on the lower part of Stewart Street in Suva, with a single tower standing on the right side of the building.
Plans initially began in 1935 during the centennial celebrations of Wesleyan missionaries reaching Fiji shores, which promptly gave the church its name.
A wooden structure built during the 50th celebration of the church's existence in Fiji was constructed in Toorak. The church and its congregation later relocated to Stewart street to present day Centenary church after the church's completion in 1954.
Fundraising for the church began in 1950, and its first stone was laid in 1953 by Ratu George Cakobau, great-grandson of Ratu Seu Cakobau, unifier of Fiji.
Bureaucracy
The church opened in 1954 with Methodism in Fiji, still under the administrative care of the Methodist Church in Australia. A push for indigenous autonomy arose, and ten years later, the administration for the Methodist church in Fiji was created. Its first president was Rev. Setareki Tuilovoni.
The church, in part, functions as part of the bureaucracy of the Methodist church in Fiji and Rotuma. It hosts annual church conferences for leaders, circuit meetings and even national church choir competitions.
Centenary today stands guard with a few relevant Methodist administration buildings, such as the Epworth house to its right and the Rev. John Hunt building to its left; the latter is named after one of Fiji's early Wesleyan missionaries and translation pioneers. The Epworth house serves as the bureaucratic headquarters for the Fijian Methodist church.
The church has its regular service on Sundays at 10 am and an afternoon service at 4 pm. The church also opens its doors on weekdays and Saturdays for those in need of peaceful one-on-one prayer sessions.